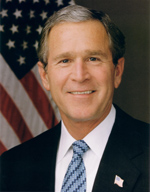 The President has destaffed the committee responsible for making sure civil rights and privacy are respected by the administration's anti-terrorism programs. At the same time, he made asking for extended spy powers, and blanket immunity for a still-undisclosed range of privacy intrusions, his highest profile priority.
Privacy and Civil Liberties Oversight Board was recommended by the 9/11 Commission "to ensure that concerns with respect to privacy and civil liberties are appropriately considered" by the President "in the implementation of all laws, regulations, and executive branch policies" related to national security. The board was also charged with determining "whether guidelines designed to appropriately protect privacy and civil liberties are being followed."
As Dr. Phil might ask, "So, how's that going?" The answer is, it isn't.
In 2006 the board was filled with administration loyalists. Yet its single work product, a 2006 report, was edited by the administration more than 200 times. At least one of those revisions was meant to give the White House political cover during the U.S. attorney scandal:
Chairman Carol E. Dinkins told board members March 29 that the White House counsel's office had asked to delete the passage, fearing the revelation might inflame the ongoing political controversy over the administration's dismissal of nine U.S. attorneys, according to documents and interviews with board members.
After civil-liberties groups blasted the board as "an open joke," Congress reconfigured the board into an independent committee. The intent was to make the body more independent of the White House, require it to be bipartisan, and make it more accountable to the public. The changes were due to start after the board members' original terms expired on January 30, 2008.
No nominations have been sent to the Senate Homeland Security Committee, which must approve appointees for the five vacancies. The board's work has stopped, its files headed for the national archives. And there is one less mechanism for protecting individual privacy against ever more ambitious domestic spying programs.
The President pledged to protect and defend the U.S. Constitution, the source of American civil rights. When it comes to those rights, President Bush has yet to report for duty.