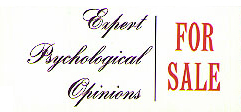 Back in the day when I was studying Lay Epistemology, a theory in social psych, Margaret Hagen held a lot of the cool in Boston University's psychology department. She is the type of researcher who is rigorous, sarcastic, and unafraid to bite the hand that feeds her. Which means she's fun and a smart read.
In her book, Whores of the Court, she holds that while psychology can measure specific capabilities such as cognition and perception, it enters the realm of "witch doctoring" when it attempts to peer in to souls and predict complex human behavior. Curious?  Download a PDF of the book free.
The legal axiom of always doubting the testimony of children is sound: research shows that child psychologists were worst than random chance at determining when a child was lying.
Your feeling that courts are overly confident in expert testimony is well founded: in two of three cases psychological professionals incorrectly predict which violent criminals will repeat their offenses.
I'll be back to sharing my own views on the law and online marketing tomorrow.  Meanwhile, I hope you enjoy Professor Hagen's indictment of expert psychological testimony.