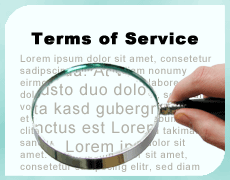 Occasionally, one finds a website that does something a little different or a little better than everybody else. Recently, a friend pointed me towards a website whose Terms of Service (ToS ) makes a good-faith effort to explain in layman's terms what the heck they are talking about.
At Aviary.com, an online image editing service, the ToS page has the traditional legal phrasing, but along the margin is a summary of the legal paragraph next to it — in English.
This is a wonderful step forward that should be encouraged. Almost no one reads ToS pages any more than they read EULAs, and even fewer people understand them. Not only is a summary a good-faith effort, but it also represents a meeting of minds — the foundation of any contract.