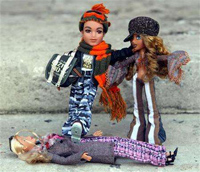 A giant legal dope slap seems headed from Barbie to the makers of The Bratz.
As you may know, Mattel accused the manufacturer of the Bratz line of dolls, MGA, of essentially stealing the idea for the Bratz from Mattel. The Bratz are estimated to generate 2 billion dollars of revenue for MGA annually.
The case hinges on a designer named Carter Bryant, who defected from Mattel in 2000 to MGA where he has since earned around 30 million in royalties. Mattel claims he developed the line while working for them, Bryant denies it.
Last week Bryant's claims hit a serious snag when it was revealed that he used a product called "Evidence Eliminator" to scramble data and rename files on his laptop just days before it was submitted as evidence in the case.
 "Who goes out and buys a program called 'Evidence Eliminator'?" asked District Judge Stephen G. Larson, who called Bryant's actions "really powerful impeachment evidence."
Earlier in the trail MGA introduced an anonymous letter allegedly from a Mattel employee warning MGA's CEO that "Mattel executives "have collaborated to spy on you and your family at your home and your children's school."
Note to product managers, product names shouldn't impeach your customers' credibility in court.