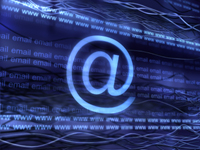 The Federal Trade Commission has issued new provisions under the CAN-SPAM Act of 2003. These are additional definitions and adjustments to rules, and do not significantly extend these anti-spam regulations for most marketers.
The new provisions address the following main themes:
(1) an e-mail recipient cannot be required to pay a fee, provide information other than his or her e-mail address and opt-out preferences, or take any steps other than sending a reply e-mail message or visiting a single Internet Web page to opt out of receiving future e-mail from a sender;
(2) the definition of "sender" was modified to make it easier to determine which of multiple parties advertising in a single e-mail message is responsible for complying with the Act's opt-out requirements;

(3) a "sender" of commercial e-mail can include an accurately-registered post office box or private mailbox established under United States Postal Service regulations to satisfy the Act's requirement that a commercial e-mail display a "valid physical postal address"; and

(4) a definition of the term "person" was added to clarify that CAN-SPAM's obligations are not limited to natural persons.
The Commission also provided a definition of  "transactional or relationship message" and decided not to alter the length of time a "sender" of commercial e-mail has to honor an opt-out request.