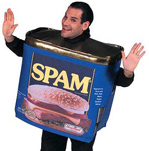 Updated: May 4, 2008
While Federal CAN-SPAM is perhaps the most well-known online marketing law, individual states also regulate online business practices. The Federal law is written with provisions which preempt state action, so the federal act is the main law, while states extend its reach, or add to it provisions as side orders extend an entree.
If you market to people in California, Colorado, Georgia or children who may be in Utah or Michigan, then you need to consider these additional rules.

Please keep in mind that items posted on this blog do not constitute legal advice. As Ron Coleman says, I'm not your lawyer, you're not my client – just walk beside me and be my friend.

Utah and Michigan Child Protection Registries
Both states established registries of children's contact information (including email addresses) which email marketers must test their lists against if they promote certain products such as:
Alcoholic beverages
Tobacco
Pornographic materials
Illegal products or services such as illegal drugs, prostitution or gambling.
These registries are supported through fees paid by email marketers to check their lists against the registries. Some marketers have argued that this makes it unfeasible to market products legal to adults by email, because they must pay high fees to certify their lists are free from registered names.
The Georgia Slam Spam Act
Under the Slam Spam Act, those who send spam to Georgians from anywhere in the United States may be punished for committing a felony if they:
Send a high volume of spam, as in more than 10,000 messages in a 24-hour period;
Generate more than $1,000 in revenue from a single spam message or more than $50,000 from all spam transmitted to a single ISP; or
Knowingly use a minor to assist in transmitting spam.
The criminal penalty for a felony of this nature is a fine of up to $50,000, imprisonment for up to five years, or both. E-mails that are deceptive but do not meet the above criteria are punishable as a misdemeanor, with a penalty of up to $1,000, imprisonment for up to 12 months, or both. Enforcement of this law is the shared responsibility of Georgia's Attorney General and local district attorneys and law enforcement units.
Behold, Georgia's SLAM SPAM Act.
The California Online Privacy Protection Act (CA-OPPA)
If there are Californians on your marketing list, that state's laws require marketers to conspicuously post privacy policies on their web sites and then comply with them.
The law requires privacy policies to:
List the types of personally identifiable information collected, and any third parties with whom that information might be shared, and under what circumstances.
Provide a description of the process (if one exists), by which a visitor can request changes to any of that information.
Describe the process by which the operator of a web site notifies users of changes to that privacy policy.
Identify the effective date of the privacy policy.
California's Online Privacy Website |  The CA-OPPA legal code
The Colorado SPAM Reduction Act of 2008
The act defines violations of the federal CAN-SPAM act as also being fraudulent trade practices, which is made enforceable by the state Attorney General. Further, the act defines anyone who knowingly falsifies point of origin or routing information as punishable under this act.
Then the act both extends terms of punishment, $1,000 per email up to $10 million dollars. It provides a one-way provision for plaintiffs who prevail cases to recover legal and court costs, without extending such provisions to defendants.