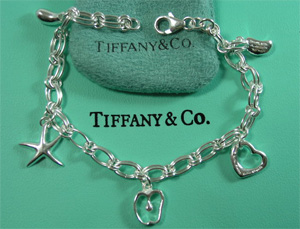 In a potentially precedent-setting trial, Tiffany & Co. has sued eBay for contributory trademark infringement, claiming the online auction company allowed the sale of counterfeit Tiffany jewelry on its site. The case is likely to turn on whether, as Tiffany charges, "eBay turns a blind eye to fraud," or whether eBay's responsible moves to prevent and aid in the prosecution of such actions immunize it from this complaint.
IP maven Ron Coleman cheers Tiffany on.  However, Law.com provides great attention to brands such as Calloway Golf, which says it gets "excellent cooperation from eBay" in protecting its brands using eBay's Verified Rights Owner (VeRO) Program. Another measured endorsement came on NPR from jewelry maker Judith Ripka, who described eBay as pretty responsive.
This case is part of a larger trend of brand holders going after online markets for contributing to the competing actions of a third party. And though they both might deny it, there's greater direct competition between the two than you might expect.
Suing the Marketplace Is Easier
Consider the ongoing case of New England Patriots vs. StubHub, where the team claims StubHub interferes with Pats' fans agreement not to scalp tickets. Then there's Google, sued by American Airlines for, among other charges, not preventing American's own distributors from buying American's trademarks as keywords.  In both cases, its easier and more lucrative for the firms to go after the markets, rather than their own fans or agents.
eBay is Tiffany's Business Threat
eBay's quarterly figures show that it has Jewelry and Watch sales of over $2 billion-a-quarter. In fact, loose gemstones and diamonds make up the site's most frequent jewelry sales. Those are not pirated goods; they are the lifeblood of the jewelry business.
More than its volume, it's eBay's 241 million registered users that makes it a threat. As an online auction site of such scale, eBay's operation commoditizes the sale of these precious goods. 
Tiffany has every right to demand that eBay not turn a blind eye to fraud. But we should also recognize that Tiffany's business is predicated on getting premium prices for luxury goods, and that eBay's legitimate participation in this market makes that more difficult.