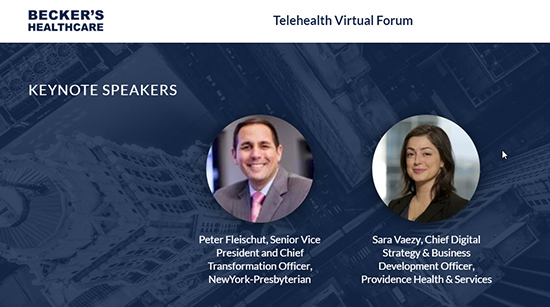 Yesterday, Becker's Hospital Review concluded its two-day Telehealth Virtual Forum. It featured topics such as how telehealth is healthcare's new digital front door, how to scale telehealth, ways it may change health disparities, and what the data tells us about the future of healthcare.
The speakers were telehealth leaders from prestigious health systems, including Providence, NY Presbyterian,  Johns Hopkins, Brigham + Womens, Univ Colorado, UW Health, UC Davis, Thomas Jefferson Health, Utah Health, Novant, and many more.
Thanks to sponsorship by AmericanWell, you can register and listen to every session free.
You can also read research by AmWell showing the spread of 'virtual practice' among providers and where patient expectations for virtual care are growing. The paper's top-level takeaway is that healthcare is increasingly a hybrid of virtual and in-person care. We've gone beyond driving trail rate; increasingly virtual health's growth will be from increasing its rate of use. And the way to do that by making virtual care a routine interaction.
Kaiser Permanente is working to increase telehealth's growth in its integrated care system. They've described how their virtual visit rate shifted from 20% before COVID to 65% during it. Last month announced the Virtual Care Plus insurance, which bundles-in virtual care by their staff in the six states where they now offer this policy.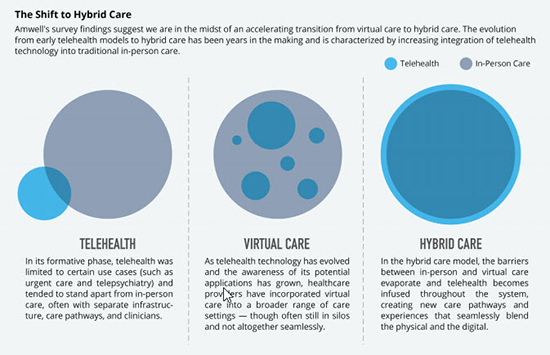 This is an example of how virtual care is being used to restructure parts of medicine. The virtual conference's topics about scaling telehealth and normalizing it to provide effective, reliable care show that health systems see this as much more than a pandemic workaround. At the Becker's event, Shawn Valentia from the Medical University of South Carolina described their creation of the Telehealth Service Implementation Model (TSIM) as a framework for planning, deploying, and improving their telehealth services.
In recent weeks, we've seen a lawsuit between two of the largest telehealth providers moving forward, which may be giving us a look at telehealth's future. AmWell and Teladoc, are fighting over patents on gear, making it easier for docs to be virtually present in clinical settings.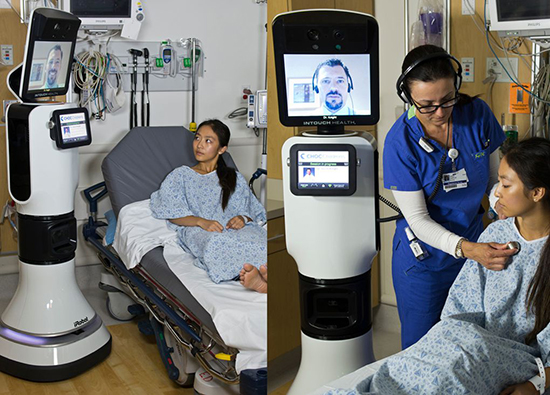 Teladoc acquired the patents this January in their purchase of Intouch Health for $600M in order to connect patients in hospitals with remote specialists via cloud technology. This investment and the subsequent fight to establish patent protections signals both leaders are investing in the B2B application of telemedicine.
Facts are still accumulating about the widespread use of telehealth. The regulatory and licensure constraints, which were reduced in response to the COVID pandemic, seem unlikely to be reinstated en masse. However, new standards and policies will be created by regulators, payers, and communities of practice. And for the foreseeable future, virtual visits and telehealth will see high investment rates and change as one of the most provocative arenas for widespread innovation of care.