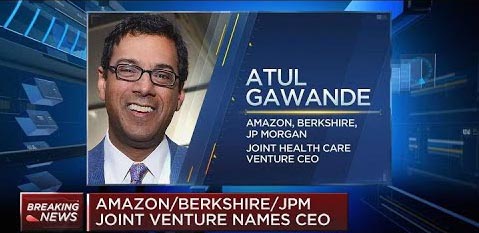 Two years ago, three beacons of American business teamed up with one of the world's best-known physician authors to topple our sprawling, expensive, not-really-evidence based healthcare system. The dream team included Warren Buffett of Berkshire Hathaway, Jamie Dimon of JP Morgan, and Jeff Bezos of Amazon, who announced Dr. Atul Gawande would be their new enterprise's CEO.
Two years in, the enterprise hasn't published results from its initiatives, let alone become a model for healthcare change. This week the Wall Stree Journal broke the news that Dr. Gawande is leaving this CEO role, a year after the departure of its Chief Operating Officer who was never replaced.
When Dr. Gawande was chosen to lead the company in June 2018, he said leading the company would be his top priority, though he would continue his work as a surgeon and to write for the New Yorker. The news of this powerful partnership caused the stocks of incumbent healthcare providers to plunge in anticipation of an innovative onslaught from the upstart.
It took nine months for the new venture to even announce its name, Haven. Recognizing its competitive marketplace, Haven kept a low profile, which offered its CEO little way to use his visibility on its behalf. So far, Haven has made a health insurance offering for around 30,000 JP Morgan employees which provides a menu of fixed cost services and financial incentives for hitting health targets. But it's been slow going.
Many believed that this partnership of Amazon, JP Morgan, and Berkshire Hathaway which owns Dairy Queen, Jordan's Furniture, Duracell, and others would be ideally suited to build a competitive advantage for these self-insured companies. However, their 1.2 million employees are scattered across the US, making it difficult for Haven to gain enough concentration to exert bargaining power or to deliver direct services.
Dr. Gawande's industry vision and moral leadership is a beacon. I wish him well and know he will continue to innovate and lead. This feels like a moment to challenge the rap that healthcare is slow to innovate and that outsiders must show the way to change. I've heard conference speakers blithely proclaim that healthcare would be better if it were more like a tech company, or Amazon, or Grub Hub.
Seeing the best-known business leaders in the world struggle in this arena is a tribute to the leaders who have made their careers here. One of my clients is prone to note, "We didn't create this rats nest, but we do know how to work here."
The imperative for change has never been more urgent, and we are fortunate to have teams fully devoted to remaking healthcare while also making it work every day.
It will take all of us to change healthcare. But the '.com smug-fest' that healthcare is a laggard industry is massively uninformed. Medical practice is necessarily complex, and it also is complicated serving customers with minimal health literacy and, in the US, being paid for through an arcane business model.
Another leader who I will not name famously noted, "nobody knew healthcare could be so complicated." Healthcare leaders know this, and they persist anyway.