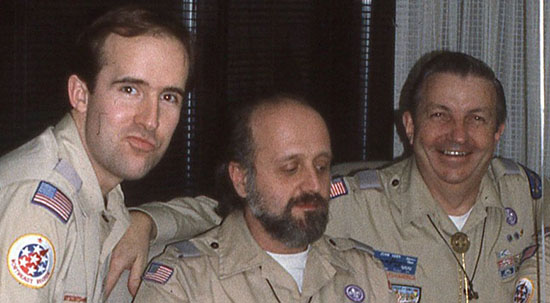 There's an apocryphal story in which Willie Sutton explained he robbed banks, "because that's where the money is."  Throughout its history, the Boy Scouts of America has been a magnet for men seeking sexual contact with boys. Because that's where overnight access to boys, secrecy, and positional authority has created opportunities for abuse to tens of millions of children.
I was an insider to this. My first two jobs – trek guiding and assessing reports of over 2,000 cases of child abuse for my state's reporting authority, made me an easy choice to take over a Scouting district north of Boston that had a recent serial abuser. BSA's national office had done award-winning work to create programs to help kids resist abuse. I was glad to help advance that.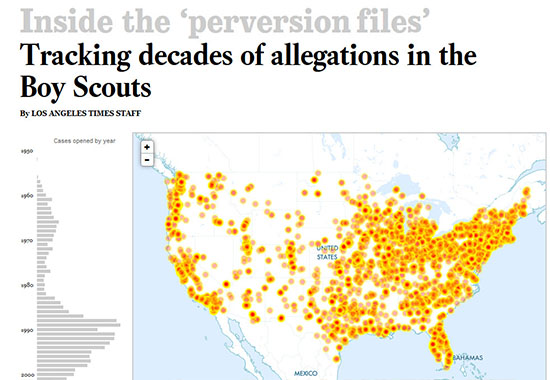 How Many Degrees of Separation From Abusers Are Boy Scouts?
Even as an executive with a child protection specialty, I had no idea that over 5,000 volunteers had already been identified as sex abusers. Their confidential files have been disclosed in lawsuits and were mapped across the USA by the LA Times. I am stunned to see how close I came to pedophiles while I was as a boy in Scouting, and how easily I could have been a victim.
As a Cub Scout in Ann Arbor, Michigan, I was two years away from graduating to a troop where someone now known to be a pedophile was a leader. In Mentor, Ohio, there were no known offenders, but there was an abuser who I was fortunate not to meet in my next town, Moline, Illinois.
In the 1970s and 1980s, I was the only boy in a single-parent family. My mom insisted that Scouting would benefit me. Knowing now, that abuse was going on near me in two of the three towns I lived in, it shifts my perspective. I'd have been a natural target, and could have ended up the kind of litigant BSA lawyers today delay, deter and deny.
Scouting's Bankruptcy Seeks to Shield Assets From Victims
BSA's organization created openings to abuse and necessitated this week's bankruptcy. Scouting is a worldwide movement; the US Congress annually charters two non-profits, Boy Scouting and Girl Scouting to be Scouting in America. The BSA nationally defines the Scouting program and provides insurance (this will be important) to several hundred local councils. These councils own and run camps and charter hundreds of local churches and schools to run *their own* scout programs.  Unlike Girl Scouting, BSA units belong to local organizations. This structure creates three layers of potential liablity. BSA's bankruptcy seeks to limit financial exposure to only a limited part of that national layer.
A few years ago, states began to lengthen the statute of limitations on reporting abuse. Suddenly Scouting and its local councils had over 1,000 new litigants heading both at them and their insurance carriers, but also toward local council's with their land holdings and the local organizations who run Scout units.
The BSA's insurance carriers turned their backs on the legal settlements the organization began to make. After all, those files showing 5,000 sex abusers demonstrated to the insurance carriers that BSA hadn't acted to prevent the harm they knew far better than the carriers. This week's bankruptcy has two intended benefits to the BSA: 1. Set a deadline beyond which prior abuses cases can not reach; 2. Shelter local councils which hold over half the movement's assets from claims.
Bankruptcy Should End the BSA, But Not Scouting
So, take a breath. If you ran an insurance company, could you imagine opting to insure the BSA against such allegations starting fresh today? If this is a risky business prospect, families sending their children to Scouting all carry a share of that risk in the most personal way. The change Scouting needs is more fundamental than new policies or insurance.
In my opinion, BSA is not an organization that can be 'hosed-out' by bankruptcy and reconstituted. I'd suggest that the proper point of control of Scouting should be its Congressional charter. Our representatives get to say who Scouting is in America. Its time for the BSA to exit America's Scouting story.
Girl Scouting, I suggest, would be the most likely alternative to run Boy Scouting. Last year the BSA become co-educational, so this is not preposterous or unusual. Every country with Scouting that I know of operates through a single, gender-integrated organization. We have the odd good fortune of a second Scouting organization, one not mired in abuse.
I admire the hundreds of Scouting volunteers I've worked with and still know. They've adapted to 180-degree changes in Scouting's social values, the 3 G's: God, girls, and gays. Scouting changed, its volunteers have remained, and so they would beyond BSA's charter.
There's enough goodwill to do better than we've done. But as a friend said this week, its time to burn it down and start fresh. It's been agonizing to live through Scouting's reluctant, glacial pace of change. The movement's membership is now half what it was during my service around 30 years ago. The problem with Scouting isn't the lawsuits, it's the culture and structures that failed to address the needs of victims and boys.
Scouting endures and adapts around the world without the BSA. It is time for this in America now too.