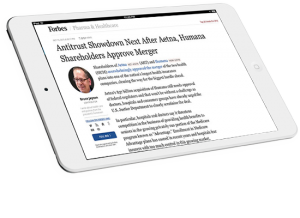 The Affordable Care Act (ACA) started an extended wave of consolidations which have merged competing hospitals in horizontal mergers, as well as integrating physician groups, rehabilitation services, and even payers through vertical deals.
While organizations may say this is part of preparing for accountable care by growing in order to spread risks across larger populations, or pushing to achieve savings through economies of scale—self-preservation is also at play. Size is increasingly seen as essential to gaining bargaining traction to sustain prices and profitable operation.
But as the year ended, the FTC began to tamp down on mergers such as the consolidation of North Shore University Health System and Advocate Care which would create the dominant healthcare organization on Chicago's North Shore. Meanwhile in Boston, Partners HealthCare, the largest network of doctors and hospitals in Massachusetts, appears to have grown as large as it can locally without running afoul of antitrust laws.
In just a few weeks this past summer, nearly $100 billion in mergers were proposed, including Aetna's purchase of Humana ($37 billion), Anthem's play for Cigna ($54 billion), and Centene bidding for Health Net ($6 billion).
But is bigger really better? Often not, argues professor Thomas Greaney, contending that Sumo-sized competitors may divide markets among themselves and then combine forces to manage regulators.
Paradoxically, limits on local expansion may bring healthcare marketers to address patients in new more distant markets and accelerate the use of telemedicine. Communications and strategy teams may find they are supporting organizations such as UPMC, which operates facilities in a surprising number of countries, or such as Mass General, which is recruiting patients traveling internationally.
Save
Save
Save