I'm interrupting my newsy blog posts with a simple request. If you like the Intenet, please read this.

Imagine having affordable Internet access that is 50-100 times faster than what today is the national average.  This is already normal in a number of other developed countries, and and could soon be a reality in the US. Except for efforts by the phone and cable companies to enact laws to prevent choices in what Harvard Law School's Susan Crawford calls local monopolies.
I'm Dave, I used to fight to make the Internet fast.
Before I started helping organizations get their brands and experiences right online, I made something.
To be more specific, I was the founding general manager of the Massachusetts Community Network.  I had the honor of hiring a team and working with a quasi-public authority to build a high speed government network  connecting two-thirds of our state to high speed Internet services for the first time. Local phone companies were on record saying they didn't want to invest in rolling out fast services over anything other than copper telephone wire — so the legislature gave my group funds to make that happen in 351 cities and town. And we did.
Some of our customers were in under-invested in parts of cities, or on mountain tops or islands. We used a lot of different technologies, and regardless of the location – everyone got connected, which made the Internet better for all. The local bell operating company (now Verizon) partnered with a non-profit whose leaders are still under various levels of investigation or indictment for embezzling nearly as much money as it cost to build our entire network.  
Yet I digress. The incumbent phone companies wanted to block better alternatives then, and they still do. Perhaps you recall when they packed an FCC hearing with homeless people so there was no room for the broader public.
Does Comcast Care? Other Countries Have Connection Sixty Times Faster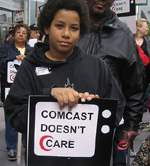 According to NPR, "For less than $40 a month, residents of Seoul, Hong Kong, Tokyo, Bucharest, and Paris currently enjoy lightning-fast Internet download and upload speeds of 1,000 Mbps." That's sixty time faster than the average speed in America.  Comcast, Verizon, and AT&T are often the only alternative for Internet access in their markets, and cities and towns like Boston are ready to invest.
Phone companies have helped to put laws on near 20 states books to stop cities from providing fast, publicly-owned Internet access. Last month President Obama proposed that the FCC to strike down these rules, which they plan to decide on later this month. Do you know how the phone monopolies are responding – by lobbying the FCC like its 1999.
Let's face it, there's not much competition to get our Internet connections. Offices in Boston's innovative Seaport District have a terrible time getting access to bandwidth. There used to be businesses that were competitive ISPs – Internet Service Providers. They had to use phone company equipment to made that "last mile" connection to customers, which in time killed them off.
Cities and towns like Boston want to establish their own resources where they find commercial options to be lacking. Incumbent services providers really don't want that. They're making more for delivering less than service providers in other tech savvy countries. And they see this ability of new local choices to be a threat. But if you like competition and faster bandwidth, its not a threat. Becoming a bandwidth backwater is the threat.
Look for what you can do — yes, there's an FCC Petition over here. In encourage you to sign and share it. But if you care about this – open up a little whoop ass over the next week. Find the right hashtag, post of Facebook – call if FCC Chair….if you do I will. This won't fix everything – but removing an impediment to change is a good start. Smart cities and towns will partner with local phone companies — and use the threat of independent action to find middle ground and encourage private investment.
 I stopped fighting to make the Internet fast and available because 15 years ago things seemed to be headed progress, and the world was full of online experiences ready to be improved. It turns out digital design has come a long way, and that bandwidth hasn't kept up. Its not that Moore's Law hasn't kept up. The problem has been business limitations, not technical ones.
I'm hoping that we can start to untie this knot that's held back our information infrastructure. Better network access opens the gates to innovation and change. I'm helping you'll help improve the Internet for us all.
Please check out that petition, over here.