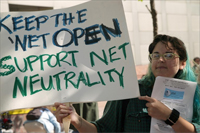 FCC Chairman, Kevin Martin, acknowledged that broadband network operators have a legitimate need to manage the data flowing over their networks. But he said that "does not mean that they can arbitrarily block access to particular applications or services." So, what is "reasonable" and what is "arbitrary"?  That was the question in Cambridge on Monday.
Both ATT and Comcast have actively promoted the idea of restricting users from sites which may provide pirated digital content.  Late last year Verizon prevented NARAL, an abortion rights group, from using its network for text messaging.  However, after a swift brush back from regulators, Verizon now prefers a hands-off approach about managing how its customers use its services.
A growing list of hearing coverage may be found on del.icio.us.  The Berkman web site provides an an abbreviated list of bloggers and media covering the FCC hearing in Cambridge.