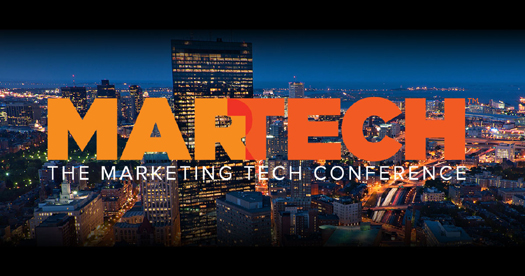 Live from Boston – I'm posting just some of the highlights from the first day of Scott Brinker's Marketing Tech Conference.
Six and a half years ago, Scott Brinker started a blog about the intersection of marketing and technology. His idea grew from an early profound insight that for digital marketing to thrive, it will have to develop its own "layer of software", or as he'd say it, "turn marketing into software. This was nearly three years before Marc Andreessen famously came to a similar conclusion about business overall.
Nobody is quicker, kinder, or better able to give a voice to this tribe of frenetically diversified professionals than Scott Brinker. Today he's kicking off the first ever gathering of Marketing Technologist here in Boston. As the event's curator, he's lined up a mix of front-line marketing technology leaders who have improvised and engineered their firms' work, and the analysts who now track this space.
The impact of his advocacy couldn't be clearer. Six years ago, Google listed just over 300 mentions of the term chief marketing technologist. Today that figure is just over a quarter million mentions, and as it's a hot job role currently being featured in Harvard Business Review and the Financial Times.
Marketing and Sales consolidate as Marketing and IT collaborate
You may already know Gartner's Laura McLellan; you certainly know of her if you recall the Gartner forecast that by 2017 CMO spending on technology will exceed that of CIOs. Yep, that was her research. She's also co-authored the HBR article I mentioned with Scott. She also suggested that marketing spend on technology has accelerated, and that it has likely surpassed CIO driven technology spending.
Her presentation, which you can download here, shows recent research indicating that Digital Marketing is now the top area of new investment by CEOs. And that a substantial portion of that budget is coming from reduced costs of sales.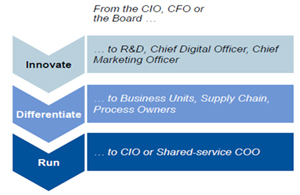 Her takeaway idea for modern marketers is that businesses need to maintain more than one cadence of innovation and operation. CMOs may run development sprints to prove and iterate initiatives, while business units build on those to differentiate how they connect with clients, and CIOs keep a marathon mentality to control long-term cost of ownership.
Yes, it's inconsistent; such is life. Each layer lives with a different ratio of chaos vs. stasis, or in more positive terms, innovation vs. stability. Having different teams and speeds calls for a more nuanced collaboration, like shifting from tennis played by singles to doubles. It's a harder, but potentially far more powerful, adaptive alignment.
The great news is that CIOs are shifting focus to support improved customer experience, and that strong partnerships are growing between marketing and IT pros. Quote of the day, "All those headlines about The CMO vs. The CIO are just to sell magazines. In reality there's a lot of cooperation and excitement to participate in growth and change, and the two roles genuinely need to work together in the long run."
Creative Technologists Invent Brand Possibilities
Mayur Gupta is the Global Head of Marketing Technology & Operations at Kimberly-Clark. He's building a team of marketing technologists, who will help invent what is possible when marketing and technology collide. It's a group he describes as having something well beyond a T-shaped skill base, having broad skills and deeper specialized knowledge in more than one business discipline.
They are true marketers: good story tellers and brand strategists. If you think of digital content as many firms first contact in the sales process, then it's easy to imagine that most brands would aspire to something more evocative than a whitepaper to embody their value promise.
And that calls for his team's second hemisphere of competence: technical innovation. Leveraging data and systems to help marketing operations scale is a long term play, which continues as long as the firm's digital innovation does.
And Gupta notes, it's all too easy to shut down innovation. He shared this great video portraying how even the most basic win, cavemen discovering fire may seem just too hard, dangerous, or ill advised.
It's easier to raise unicorns than hunt them
Paul Roetzer wasn't the first person to call Marketing Technologists unicorns, but he called them that the most. They are both rare and in high demand.
76% of marketers think marketing has changed more in the last two years than in the last fifty years. (Adobe Digital Distress)
90% of firms lack necessary digital skills. (Capgemini Consulting)
75% of marketers say their lack of skills is impacting revenue in some way.
Research from Paul's firm 20/20 PR suggests that when it comes to talent, are few areas of digital execution that are not in significant need of reinforcement.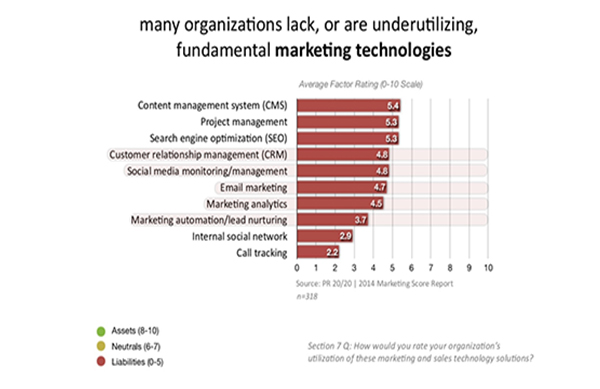 Source: The 2014 Marketing Score Report
Note this scale: everything in red is where organizational solutions feel inadequate. They're all red. The 318 organizations surveyed by PR 20/20 in its Marketing Score Report revealed that exactly everything in the life of digital marketers needs to evolve, or feels as if it's overdue to.
Paul noted that few higher education programs address digital business at an operational level specific enough to produce new talent. So, teams either must invest in developing internal expertise, or hire individuals who have strung together the requisite experiences and individual certifications to be knowledgeable.
So, after six years the first marketing technologist conference is happening. If what this chart suggests is true, and I suspect it is, we're still in the infancy of this evolution. That means technical agility, imagination, and the ability to combine consumer obsession and business savvy will continue to be in high demand, making marketing technologists a rare and valuable tribe.
Please let me know how you see this technical architect and marketing operations lead being filled in your role, or if you have favorite take-aways from this conference.