Let's face it: Without market research and analytics, the discipline of marketing would nothing but liquor and guessing.
The best firms regularly look to marketing to spot and prioritize opportunities for long-term profitable growth. As "audience insight" is the start and end of each marketing process, this  makes market research a huge part of any firm's roadmap.
Sure, most travelers may think they know where they're headed, but the ones with compasses and maps enjoy greater clarity to act. And that gets them there faster.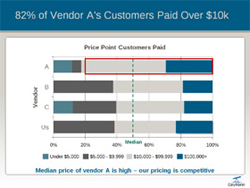 The same is true of objective, fact-based research. Some market facts that are simply worth knowing with certainty:
Competitive landscape and gaps
Size of market demand
Hidden factors that drive win/loss rate
High-value segments and positioning
Estimated return on new product features
External research can do wonders to get everyone on the same page, and to establish the "ground truth" needed to eliminate random acts of marketing. I love starting from a good fact-base, don't you?
That's why you might want to bookmark this new website, CoryMann.com. Yep, that's an endorsement. She's my wife, and her first website is up. If you need expert market research consulting, she's a good person to talk to. (end of ad).
Before you can do, it pays to know. And while business never lets you know it all, or do it all, why not own answers to the key questions facing your firm? It's this kind of market knowledge that helps marketers invest more where the payoff will be best.
What's the best market insight you've found, and did it arrive as a comment, or as analysis of data? Go ahead and tell me here – and I'll add my best lesson from analytics in the comments.