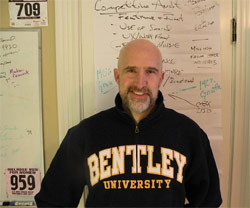 One of the most radical things we can do is introduce good people to each other. That's the good intent behind #FollowFriday, and behind a great event I attended last Friday at Bentley University. I'd like to introduce friends from Bentley College's Center for Marketing Technology who stood up a fantastic conference on local marketing last week.
Bruce D. Weinberg (@bostongarden) and @IanCross pulled together social media speakers, business leaders, and hundreds of local marketers all through social media and networks to make an electric half-day program.
The Mobile flight included Philip DesAutels of Microsoft, @EricLeist from Allen & Gerritsen, @JohnnyStartup from SCVNGR, and me all talking about how mobility changes local marketing.
Since this was a room full of social media people, it was also full of video cameras. You can see video of our talk, and an extra minute that Eric shot with me after the event, below. If you like social media and mobile marketing, take a look.
All politics is local, and increasingly more of marketing is too. Have a great weekend, and check these new friends out. Happy weekend!