What do the undead think about inside their coffins (or at Starbucks) during daylight hours?  Intellectual property,  apparently, as evidenced by an unlikely copyright lawsuit.
The bloodsuckers at  Summit Entertainment, makers of the Twilight vampire movies, have filed a lawsuit against the makers of a jacket worn by a character in their film. The clothing manufacturer's offense was, well, advertising that fact and including reference to the film and its characters.
Here's how they presented copy aimed at getting teens to buy their jacket:
"Bella Swann wears this jacket in Twilight and scores the hottest vampire in high school, and so can you!"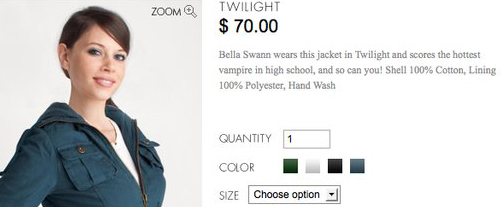 First, friend, take it from someone who has dated both hot vampires and hot witches: go with witches. They're easier, and don't bite, and are way more fun at brunch.
That said, the statement,  though it uses character names, is in fact true.  Summit's creative work included the jacket, which itself is a creative work.  Summit conjoined the jacket and the character.
The best defense against litigious vampires
Perhaps the best defense against copyright-obsessed vampires would be the equivalent of holding up a mirror to them: a countersuit.  After all, the movie incorporated the jacket company's creative work.  It's not that much more flimsy than the case at hand.
Stunningly, Summit is asking for all profits from the jacket's sales, triple damages for willfulness, and for all remaining stock to be turned over to the studio for destruction.
Vampires, blah.