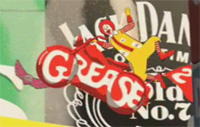 Last night, a 16-minute animated film, entirely populated by trademarks as both characters and props, won an upset Academy Award. Its producer, Nicolas Schmerkin, explains:
It's about the way we live and the way we react to these logos. The brain can register 14 logos in less than one second. Making the logos characters with sets and props is about what we're living … They're used for what they are.
Logorama is festooned with trademark and copyright questions, right down to the Shapard Fairey "OBEY" street art in the background on a scene. During my time with trademark research firm Thomson CompuMark, we used to see how many trademarks we could spot in different environments. This film is that game wrapped up as a somewhat violent film that asks the question, "Aren't we all products too?"
You can watch it for free on the Logorama website or buy it for $2 from iTunes.
Trademarks are, after all, romance.  And here, they (along with tremendous imagination) are the whole show.