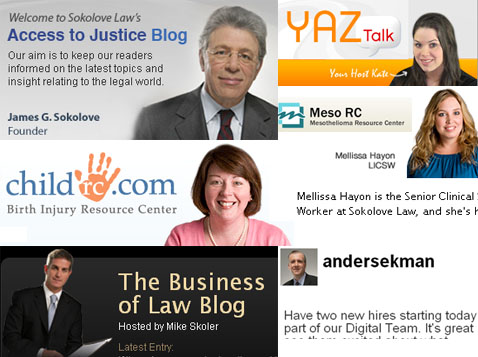 Legal Marketing articles describe marketing with social media in vague terms. "Start a blog", "listen", "create good content". This isn't new stuff, heck, over the weekend even the Pope told Priests to Blog.  Its time to get real about social media and law firm marketing.
So here are seven meaty examples of one law firm, Sokolove Law,  doing its legal marketing with social media. There they go, connecting with prospects and personally building trust with visitors, while sharing the firm's expertise to benefit the larger community.
Social Marketing on Law Firm Websites:
Increasingly social media is becoming central to the law firm's websites.
Parents of children with birth injuries often can't imagine their child grown up and how they will overcome disabilities such as Cerebral Palsy. Sokolove Law's site ChildRC is publishing a five-part series on going to college in a wheelchair.  This is a totally different view of college life, which is not as accommodating as we might assume it should be.
YazTalk is a socially driven website and Facebook presence that connects women with concerns about this medication with each other and the firm's expertise.
And Sokolove Law's Melissa Hayon is a social worker who builds relationshiops through its Mesothelioma Cancer website and the broader community of those battling this disease.
Naturally, social openness starts at the top.
Taken together, the firm's social footprint reveals its expertise and helps it connect with the people and issues that make its team passionate about legal practice.
Are you familiar with other law firms with broad social media strategies?
Please let me know.  What firms do you think have it going on in social media?
—
As a reminder: the opinions expressed here are those of the author, and are neither solicited, informed or approved by anyone other that myself. As an employee of Sokolove Law, I have a vested interest in this story, and am glad to share a view of the teams innovative legal marketing.