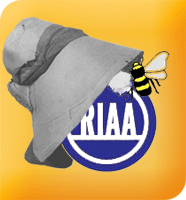 It seems that Harvard Law Professor Charles Nesson has really put a bee in the RIAA's bonnet. As part of the Sony BMG vs. Tenenbaum case, Nesson filed a motion to compel a deposition of Matthew Oppenheim, a legal heavy-hitter for the RIAA. As a result, the RIAA countered with the threat of certain sanctions under a federal rule in civil procedures dealing with "Failure to Make Disclosure or Cooperate in Discovery; Sanctions," known as Rule 37.
Basicaly, Nesson is trying to compel testimony by Oppenheimer, who has represented the RIAA in many cases. The law firm of Holme Roberts & Owens, LLP, operating on behalf of the RIAA, believes such a motion is groundless, and would introduce the obvious problems associated with privileged communications.

However, it appears Nesson is not going to withdraw the motion, given his response (available from beckermanlegal.com):
our motion stands

we welcome your opposition
The next step may be a specification as to the details of the testimony that Nesson wants from Oppenheimer. Given the public stance by the RIAA not to pursue similar legal actions in the future, this may represent a turning tide of existing defendants aggressively going after the RIAA.