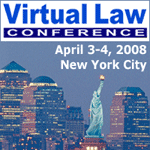 The 2008 Virtual Law Conference boasts a fantastic line-up of legal topics that attendees will take up at this Spring's conference in New York.  And I'm thrilled to have been invited to cover its proceedings for UsefulArts.us.
The Virtual Law Agenda:
The top 10 things brands should know about virtual worlds
IP enforcement mechanism in virtual worlds
Legal issues in virtual currency
The law of virtual property rights
Litigating a virtual law suit
Ethical concerns around legal practice in virtual worlds
I'm looking forward to visiting with UsefulArts readers at the show; please let me know if you'll be attending.  And you can look forward to interesting news and views to share starting on April 3rd. 
All the best,
Dave Wieneke