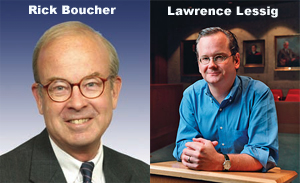 Arts Technica describes how shifts caused by a death in congress could reshape the legislative terrain for intellectual property law.
Rep. Tom Lantos' (D-CA) death from esophageal cancer leaves an opening at the top of the House Foreign Affairs Committee, an opening that appears to be perfectly shaped like Howard Berman (D-CA). Berman is expected to take over the foreign affairs post, which will open his current spot as chair of the Subcommittee on Courts, the Internet and Intellectual Property.

Berman hails from Hollywood and has been a powerful Congressional backer of the entertainment industry. Known as Congressman Hollywood, he's pushed everything from higher radio station royalty payments to the MPAA's campaign against colleges to the current PRO-IP Act.

Rick Boucher (D-VA), who's in favor of expanded fair use rights and DMCA reform, looks to be next in line.
But who would fill Tom Lantos' seat?  Lawrence Lessig has posted a video about why he might run.
Again Arts Technica covered the start of the Draft Lawrence Lessig Campaign. Then, earlier today, Professor Lessig posted a ten minute video discussing his view of the political process.