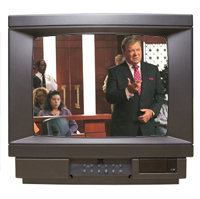 This week, ALM, publisher of 33 professional magazines including The American Lawyer, and  Courtroom View Network (CVN), a legal-news video service, announced CourtroomLive.com.  The service will allow legal professionals to watch current trials as they happen, and distribute the feeds securely to clients or colleagues.
Imagine how firms could create shadow juries to watch actual proceedings and provide feedback to litigators. Clients not in court could monitor proceedings. Litigators could view their own presentations, and potentially archive competitors' presentations for future reference.  Financial analysts could monitor cases more directly and adjust their valuations of companies involved in substantial litigation.
Full year subscriptions to live cases are around $3,600. There are also options for a $400/day pass. 
However, when I went to view Liberty Media v. IAC/Interactive Corp, a high-profile online law case promoted on the site, the product wasn't available. Bygones. You can still get a taste for this by watching Bill Gates obfuscate during anti-trust testimony, which is one of CourtroomLive's demo videos.
Video holds tremendous promise for the legal education and practice.  It will be interesting to see if products like CourtroomLive can reach audiences with price points that position them as a video LexisNexis or WestLaw.  In this business, content is king, and gathering it today can be both difficult and expensive.