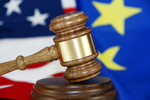 Today, Microsoft confirmed what years of speculation predicted, they will attempt to buy Yahoo. While this is an obvious move from a business sense, there are formidable regulatory hurdles ahead.
Yet, sources as objective as Yahoo News and MSNBC minimize the risk of regulatory review. To be fair, so does most of the US media which echos them.
Microsoft's press release,  says that it "believes this proposed combination would receive all necessary regulatory approvals and expects that the proposed transaction would be completed in the second half of calendar year 2008."  Want to know why this won't happen as predicted?

By the second half of the calendar year the EU will still be apoplectic at this prospect. I agree with John Dvorak at MarketWatchwho says the "EU (European Union) must have a red alert horn sounding in Brussels" and to Jerry and Bill's chagrin, that horn will just be getting warmed-up by the second half of this year.
The EU is downright phobic about Microsoft and its current role on the desktop.  Recent rulings suggest that IP addresses (something Yahoo has from search) are considered personal information. They really won't want to mix the two. Though they are uneasy about Google, creating more privacy-smashing monoliths is probably not the EU's first choice for dealing with them.
Microsoft is among the most creative in search at using personal information to profile web visitors for targeting advertising on the web. This will help fuel a protracted privacy debate. You can count on seeing this shoot up the media hype-cycle starting now.
And finally, the US Courts have extended their supervision of Microsoft in its famous antitrust case settlement for at least two more years. SDA India reports, "Judge Colleen Kollar-Kotelly of the U.S. District Court for the District of Columbia extended the court's supervision through Nov. 12, 2009, writing that the 2002 settlement had not fully taken effect."  There's a ton of regulatory review to happen, and it won't be done by the second-half of this year, if ever.