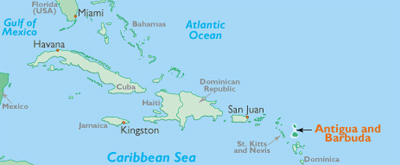 Antigua and Barbuda are best known for their pristine beaches and tourism. However, their second-largest industry is online gambling, and it is the subject of perhaps the most bizarre trade ruling in years.
In a rare ruling, the World Trade Organization (WTO) awarded the nations the right to violate U.S. copyright protections of software, films, and music.  That's right, the WTO officially seeks to promote the Cross-Border Supply of Gambling and Betting Services, and they'll sacrifice some intellectual property protection to get that done.  

The ruling was based on a finding that the U.S. government blocked online gambling business from the islands, while at the same time allowing domestic firms to operate limited online gambling on horse racing.
Barbuda and Antigua had claimed damages in excess of 3 billion dollars.  Compared to that, the WTO ruling of 21 million dollars of copyright infringement seems limited. However, it is in fact remarkable, as the WTO has only once before removed intellectual property protection as a remedy in a dispute.
I suggest that this ruling will generate further action as the parties squabble on how to calculate just how much piracy equates to 21 million dollars of damage.  There is also potential that an increased level of "unofficial piracy" will take place, and that Antigua and Barbuda may attempt to use the 21 million only to offset piracy identified by U.S. authorities, sort of like the "Get out of jail free" pass in Monopoly.
Attorney Mark Mendel developed, and convinced Barbuda and Antigua to pursue, this potentially precedent-setting case.  The Register covers the ruling and its significance.  You may want to take a look; I have the feeling we've not heard the last of this.