A version of this article was first published in ISITE Insight.
—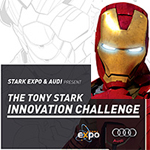 The drive to dramatically differentiate brings companies to invest ever more on things like internal R&D. But, as Steve Jobs put it, "Innovation has nothing to do with how many R&D dollars you have. When Apple came up with the Mac, IBM was spending at least 100 times more on R&D. It's not about money."
Ideas come from people and the culture around them. R&D teams and/or outside consultants can have so much expertise in their industry that it limits them. Without knowing it they absorb sets of assumptions about their industry and technology that dampen exponential thinking.
Or they just overthink it. Because they are spending all their work hours absorbed in their product they fall into the trap that the customer will be as obsessed about it as they are. It can be hard to keep in mind what a Glad marketing exec once told a friend of mine, "At the end of the day it's just a trash bag."
So what's the solution? Another kind of competition: One that works for you by bringing the world in to compete on behalf of your marketing changing idea. The disruptive idea here is that that kernel of your next breakthrough may come from an industry or source far from where your firm is today.
A growing number of high-profile organizations – from DARPA to Adidas to the University of Michigan to Netflix and NASA – have run competitions which offer cash prizes to the best solution to a particular problem. Though these efforts may seem like sideshows, they can produce incredible, breakthrough ideas, often at a fraction of the cost of owned efforts.
Innovation Competitions Are A Nexus For Breakthroughs in Healthcare, Education, & Technology
Marketplaces for exponential thinking are making novel connections as shared platforms for break through thinking. Consider the return and investment of a few high profile efforts.
Kaggle invites data scientists to compete to solve problems and win prizes and consulting engagements. The EU and US space agencies started a to solve the problem of measuring how dark matter distorts images from other galaxies. The spirit of competition and a $3,000 prize drew 107 researchers in 73 teams. How's that for ROI? And a week later, a British glaciologist had created an algorithm that exceeded the best models provided by astronomy. How's that for time to return?
DARPA – Self Driving Cars and Robots That Rescue
Of course contests are nothing new. There's a great history of cartographic prize competitions, such as the Longitude Prize of 1714. Or DARPA, the Department of Defense research lab which started the idea of this thing called the Internet. They're well known for competitions that spawn amazing results. It was their competitions which proved that autonomous vehicles – cars which drive themselves – can really work. As a result of this several car companies are already working to bring them to market.
This year's DARPA launched the first in a series of competitions to find software which can run robots operating in dangerous situations. (See coverage by IEEE) The agency has gotten amazing results for relatively little outlay: The prize for each of these competitions is $10,000. So, for less than the cost of one person-month of research, DARPA is generating a field of working prototypes.
Challenge.gov – Healthcare Data That's Beautiful
In fact the US government, which many would agree needs a shot of competition, has found this approach so successful it's launched Challenge.gov – a central clearing house for all the different competitions being run. It includes challenges from pretty much every agency you can think of: Department of Justice, the White House, the EPA, NASA and many others.
The Department of Health and Human Services' Blue Button Mash-up challenge put designers to the task of taking barely-able-to-be-used healthcare data feeds from the Medicare website and making them into human friendly patient records.  The Medicare site lets customers set up accounts and view three years of their claims filed, but the text file is unmanageable and usually hundreds of pages long. HHS' IBlueButton not only makes that data accessible on a smartphone or tablet, it clearly displays all the essential information needed by patients, doctors and relatives: all the diagnosis the person has received; every doctor, hospital and ER visit; and all the lab tests and prescriptions.
The competition to do this was won by a company called Humetrix and as founder Bettina Experton, told the Wall Street Journal, "If a patient can't speak, he can simply show the information on his phone to the people in the ER."
The XPrize: Spurring Industry and Invention
In 2011, philanthropist, Wendy Schmidt (wife of former Google CEO Eric Schmidt), funded a contest to to inspire new solutions to speed the pace of cleaning up oil spilled in ocean water through the Oil CleanUp X Challenge.
The final contest was a demonstration at the OHMSETT, the National Oil Spill Response facility. The contest's pay back was dramatic. Team Elastec/American Marine, received $1 million for accomplishing a cleanup of 2,500 gallons per minute, exceeding the industry's previously recorded best cleanup rate by nearly three times. The prize was a catalyst for product development.
According to Inc., American Marine's CEO Donald Wilson was unsure of the market for this promising new system. At $30 million in annual revenue, the Carmi, Illinois based equipment maker had finite R&D as well as marketing research. The solution might well have languished, except for the fire that this competition with a deadline lit under the American Marine team.
By engaging networks of innovators through competition, this approach spread risk while likely finding a better suited and motivated team than even the best hiring would have. By accessing a larger number of more diverse solutions, Schmidt had a better likelihood to produce a breakthrough idea that concentrating her bet from the start on a small dedicated pool of innovators.
Companies Small and Large Thrive with Innovation Competitions  

Image courtesty of Esri
Whether for prizes or glory, many hackathons spur collaborative innovation through casual high-speed competition. ISITE recently hosted GIS Mapping Software firm ESRI's Map Camp in which developers came together to make apps to make downtown Portland better. The results ranged from new ways to load massive 3D building designs, to finding entertainment and coffee. Of course it also built relationships, skills, and stronger ties to the community.
And since 2010, Apple and Google have co-sponsored a series of six mobile apps challenges at the University of Michigan. The promise of competition and some free gear has resulted learning, promoting a culture of experimentation, and useful apps, such as M-Cam which allows visitors to control the university's 40+ lecture cameras and listen to lectures remotely. 
Contests Give the World License to Just Show Up
If you want to find Blue Ocean Strategies that redefine the competitive landscape, then recruiting a broader range of thinkers may be your best first step. And though there are lots of ways to do this, a contest is an unambiguous way to open your doors and give new innovators the license to show up with their best solutions.
There's still a need for owned R&D. But companies of all sizes are seeding their innovation agendas with the ideas of contributors from outside their walls. Because in some cases, the best way to solve a problem is to share it.
– See more at: http://www.isitedesign.com/insight-blog/14_01/invitation-innovation#sthash.qzazikPL.dpuf