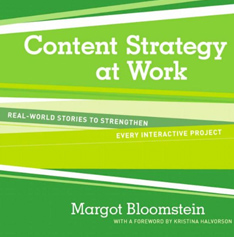 As a marketer, journalist and learner, I've always had a nagging feeling about the idea of "content".
Its a terribly generic word, which too often gets used by engineers and designers to describe undifferentiated marketing messages.  You know, after building a great page template, someone says "the content goes here."
I've recently enjoyed serving on a committee with Margot Bloomstein who makes getting people to think about and plan "good content" her specialty. Thursday nigh, ISITE Design  hosted a little after work book launch bash for her.  I posted an announcement of this here, and got to see a few old friends too.
The registration and attendee list is here. 
Thanks for coming out – I hear that Wayne Kurtzman will be posting photos of the night here.