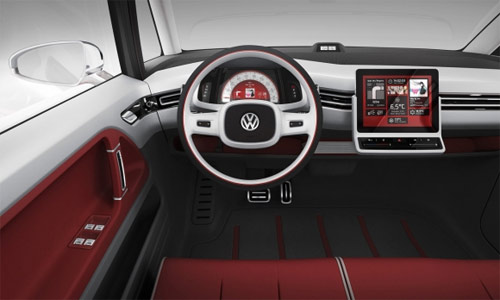 Henry Ford Would Be Amazed
The race is on. So, you want mobile computing? Apps, tablets, and new devices are being built into cars at supersonic speed by automakers. Some of this is just good marketing in a new medium. But mobile is also driving changes to the experience of buying and owning automobiles – and through interoperability, even using them.  I'll call out a few noteworthy examples, and hope others will add more examples of mobile computing in cars.
Audi's CarMonitor
Audi's CarMonitor app uses the car's OBD-II port to give users access to real-time performance data, including fuel efficiency, speed, and emissions information. Beyond monitoring the data, the app also analyzes and stores the information in order to help you reduce CO2 emissions through smarter driving. You can also use your iPhone's GPS feature to log route information and output performance details that can be uploaded to MyAudiLabs.com for analysis. Audi offers other apps designed for the iPhone, iPad and iPod Touch that include virtual vehicle tours (Audi A8 Experience) and video game-like driving challenges (Truth in 24, A4 Driving Challenge and Asphalt Audi RS 3).
BMW M Power Meter
Owners of M-badged BMWs can now monitor, analyze and store all those numbers that BMW drivers love. Using an iPhone's accelerometer, the app captures data such as fastest quarter-mile or highest speed through a curve, all in real time. The app can be customized to suit personal driving styles and also features "skins." (BMW's description.)
Ford Sync AppLink
Taking Ford's Sync hands-free communication and entertainment system to another level, AppLink allows users to integrate a number of certified smartphone apps into their driving experience. Users of Bluetooth-enabled Android and BlackBerry devices can access popular apps such as Pandora Internet radio via voice activation through the Sync system. The 2011 Ford Fiesta is the first AppLink-ready vehicle.
Mercedes-Benz My MBFS Pays Off
I first started talking about Mercedes-Benz mobile sales strategy when I learned that their sales team was using iPads to sign deals right in display vehicles, rather than dragging would-be clients back to their desk for negotiations with their sales managers. Okay, that's a substantial upgrade to the buying process.
Interestingly, this has now been extended to paying the car off. The Mercedes-Benz Financial Services app is an account management utility for customers to view their account and a real-time pay-off quote, as well as make secure bill payments right from the app. Other features include a dealer locator and news updates from Mercedes. Mercedes also offers an app for its mbrace telematics service that allows users to remotely lock and unlock the doors, find a vehicle on a map, summon roadside assistance and more. While the mbrace app is free and available for iPhones and BlackBerry devices, the mbrace service requires a subscription.
The Cooper Mini Link
This Cooper Mini-flavored social networking app gives users the opportunity to detect and connect with each other while on the road, share roadworthy information, drop a pin to mark favorite drives, create a community event such as a meet-up or instant road rally, send alerts on the location of cheap gas or speed traps, and even automatically send digital waves to nearby users. A fee-based roadside assistance app is also available for Mini owners.
My Nissan Leaf
A smartphone companion to Nissan's new all-electric 2011 Leaf, this Apple app provides owners with the ability to manage and maintain their car remotely. Options include the ability to check the state of the battery charge, initiate charging, check when a charge has been completed, see estimated driving range, and manage the vehicle's climate control system.
Going Beyond the App – Hyundai Equus
The 2011 Hyundai Equus is an amazing example of how developers and marketers are integrating their products and services with Web 3.0 delivery. Equipped with the Equus Multimedia Tablet, users can easily and quickly pull up a slew of information and diagrams about their new luxury sedan. The tablet will be used as more than just an owner's guide, but as a relationship pipeline for handling customer/dealer interactions, gathering customer feedback and product ideas, and scheduling service appointments—a live service scheduler app allows owners to select appointment times at their home or business for vehicle pick-up and loaner drop-off.
Digital Convergence in the VW Microbus
VW has built a concept camper with the iPad as part instrumentation and part entertainment center. If you must own a van, why not the cool fun one that works with your tech?
What's Next for Car Enthusiasts?
The Equus' integration is just the beginning of how the relationship between car owner and manufacturer completely changes. Imagine the social media potential to connect owner-enthusiasts, or to send targeted messages about the cool stuff in next year's model to those owners who are most likely to be ready for a new car. Going forward we're bound to see more cars' dashboard controls becoming touch screens, and partially app driven. I imagine many of the cool app features detailed above will be integrated into the dashboard, along with the relationship-driven information we're seeing with the Equus.
I wonder when the auto pilot app will be created. Roadtrips will never be the same. What's your take on apps, autos, mobile, and the mash-up that is personal tech on wheels?