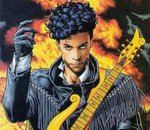 Described in one of his own press releases as a "creative genius and forward thinker by nature," the Purple One's legal creativity is legendary.
Recall his 1993 falling-out with Warner Bros. during which he only appeared in public with the word "slave" written on his cheek. Then he abandoned his stage name for a symbol. The line between brilliance and freakishness is gossamer-thin.

In my opinion, Prince is as savvy a brand manager as there is in the entertainment industry. Let's face it, getting us to call him "Prince" in the first place was pretty gutsy positioning. This is the guy who got his label to give away his album Planet Earth via the Mail on Sunday newspaper, creating a sensation and resulting in twenty sold-out arena shows in London. As a marketer he's bold, and as an innovator he's willing to take heat to succeed over the long term.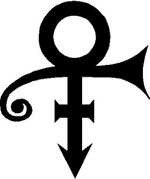 Now the artist formerly known as other things is taking on the Internet; specifically YouTube, eBay, Facebook, and even fan sites, citing a need to "reclaim the Internet" from piracy. He's hired the firm Web Sheriff to coordinate the massive takedown effort.
So the heat is back on Prince again. His fan sites have federated to make a unified legal defense. The Electronic Frontier Foundation has filed a Fair Use suit on behalf of a mother who posted a video of her baby bouncing to "Let's Go Crazy." You can view the complaint here (PDF).
Not unexpectedly, he's drawn criticism from the online world. Even the UK's Guardian newspaper has gotten into the act with its own fan site of Prince costumes for those afraid to post them and risk charges themselves.
Prince will prevail. Because that, and playing mind-blowing music, has been his gig for thirty years. He'll negotiate with fan sites, get respect from the Net, and continue bossing his music label around. Even if he has to write on his cheek–or change his domain name–to get it done.