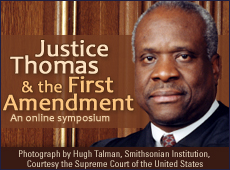 Timed to coincide with the release of Justice Clarence Thomas's autobiography, the First Amendment Center has published an online symposium concerning Justice Thomas's First Amendment jurisprudence.   This includes an analysis of Justice Thomas' decisions concerning Electronic Media decisions. (He's an originalist, and uses traditional 1st Amendment thinking regardless of media.) 
As you might imagine from the symposium's timing, and its sponsorship by an organization with a journalism right's focus, editorial tone is somewhere between measured scepticism and measured alarm.
 
As Erwin Chemerinsky notes in the symposium's forward, there is no strong criticism. Most authors note his "big ideas" and "candor" without explicitly commenting on the desirability of the direction where those opinions lead.
The First Amendment Center is a program of the Freedom Forum, which was founded in the 1930's by newsman, Frank E. Gannett.