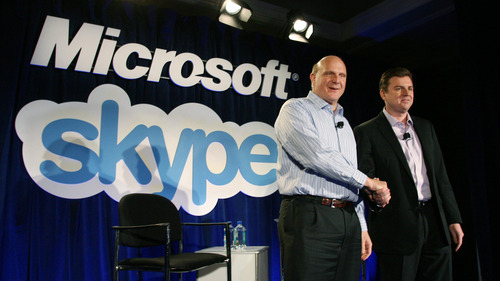 My article was kindly published on eConsultancy's blog. Think this buy is cunning or crazy? Join the discussion there.
You and I may use Skype for free, but this week Microsoft agreed to pay quite a bill for the global phone service.
The $8.5 billion purchase is the largest corporate acquisition in Microsoft's 38-year history. Microsoft CEO Steve Ballmer says the purchase will make his firm "be more ambitious, do more things." One thing is certain: it absolutely defines the firm's current world view. There were no signs of other serious bidders forcing Skype's valuation up. The valuation, nearly triple the $3 billion paid for the profitless service it was just 18 months ago, is eye-watering. It reflects how important Skype is to Microsoft, and here's why.
Last night I was fortunate to be at an event with Microsoft Online Services Division President Qi Lu. He presented the equivalent of Microsoft's Web 3.0 vision, and I was able to question him about the changing role of content and data in the digital marketing ecosystem. Here are some thoughts on how his view of the future seems to fit with this purchase.
Search and Social Have a Big Story Ahead
While a search on Web 1.0, "the topical web," can provide information based on popularity and authority, the "social web" 2.0 provides information based on trusted relationships. Microsoft sees that Facebook has a leading consolidated position on the web;  its data defines the terrain of these trusted relationships. Everyone you've messaged on Facebook, chatted with, liked or friended creates a relationship trail. The same is true of Skype. Its shows the small group of people with whom you really interact, and how actively.
How Skype helps: Microsoft values highly its partnership with Facebook. This purchase positions them to provide an IP voice layer to the service, and to use all of Facebook's data to provide targeted advertising to users across Facebook and beyond. While Google is desperate to "crack" social, Microsoft is laser focused in partnering with its leader, Facebook.
Advertising Is an Inherent Part of the Online Experience
The partnership with Facebook will help Microsoft build advertising-supported search, which leverages the trusted recommendations of your network. It will evolve to become more location aware, and use geo-data, demographics, and search requests to return more relevant results to users. Imagine you're searching for a movie to see, and your results leverage your friends' input, location, and what people in that neighborhood prefer. As "information" becomes a commodity, search impressions will drop. Count on Skype to have built-in video advertising, which will buoy Bing/Microsoft's rate of ad impressions.
Security Firms Want Your Voice
This is my own insight from knowing about embedded systems: Identity management, especially on devices which may or may not have keyboards, is a pain. What if you had the choice just to "say hello" and use any device or data you were authorized to use?  Part of the data that IP phone services get is the pattern of your voice. Microsoft is in the identity and access control business. Having voice prints for Skype's 145 million active users would be a great start for this.
Hand-Held Games and Mobile Phones
xBox is increasingly a media convergence device. Microsoft will make voice part of that experience. Connecting players in game by voice is obvious. Imagine the possibilities for interactive game and entertainment programming. This expands the canvas for games and television.  Imagine Second Life with way better infrastructure, and run for mid-market adopters.
Microsoft has also lost a lot of momentum in the mobile space. Their tablets, music players, and handsets are getting eclipsed.  Turning gaming devices into smart phones is one path. Or, more obviously, they could use mesh networking between devices and wifi t0 provide smart phones that don't have a reccurring carrier bill.
Is Skype Really Worth $8.5 Billion?
Perhaps not to you or me.  And not to Google, which this week had very big news on its $20/month Chrome computer, and a new Android version called Ice Cream Sandwich, which will merge its phone and device OS.  Google and Facebook have time to grow voice services, or to partner, and they risk having others lead. Skype is an accelerant for many of Microsoft's most important ambitions. It's the part of the future that Microsoft wants to deliver.
In Ballmer's words, Microsoft needs to "be more ambitious, do more things." It needs to get beyond making operating systems for PCs, which mobile and tablet computing is eroding. If that's what this purchase delivers, then revenue or not, it may be the essential purchase reflected in Skype's price to Microsoft.