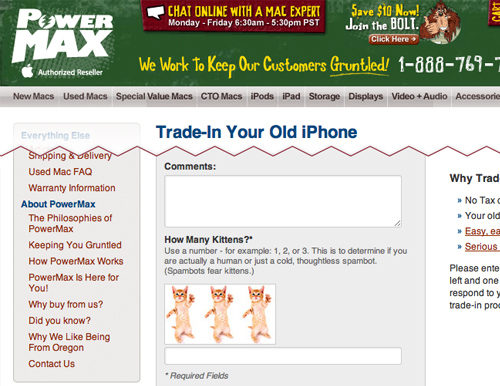 My colleague Melissa Casburn shared this over on the Dare to Delight blog – it once again shows the perverse power and allure of fluffy adorable kittens who, I"m sure you've already noticed, rule the Internet. Now they also strike "fluffy adorable fear" in to the hearts of spam bots as well.
Just a few months ago Toronto-based ad agency John St launched a great parody which positioned cats as "an unbelievably effective new business tool". They contemplated an agency that would specialize in Catvertising – that is "to integrate cat videos into every part of the consumer experience." Who wouldn't want that?
This brings me to think that the power of cats, and the power of Pinterest,  is more about the media than the subject.

As boffo as cats are (no angry cat person emails please) it is only images of cats that the enduring Internet meme.
Cat blogs aren't all the rage.
There's no sign that people are searching for Kitty white papers.
Are there Kitty webinars to register for? Nope.
Cats, who can't type or are just too smart for it, are predictably absent from twitter as well.
Notice how conventional B2B lead gen objects (webinars, white papers and such) don't fit with the marginal cool of cats? What do cats have they don't? MVP.
Content Strategy Builds Minimum Viable Personality
Just as mobile has driven home the understanding that interactive experiences are way beyond hyperlinks, Pinterest (and Kitty marketing) is a wake-up call that content really is no longer just text on a screen. Content marketing success is increasingly less about words frozen on pages. Its really experience marketing which requires something I call, Minimum Viable Personality.
Just as products need a "minimum viable set of functionalities" to be effective, they also need a minimum viable personality in their brand experience. This can be humble reliable cheapness, innovation, being fun….but making a product that merely works doesn't carry a premium. Making a product that people give a damn about does. And minimum viable personality is part of that.
Photos and videos are a fast way to show personality. Most people would rather see cats that over written descriptions of even good products by their marketers.
Brands take off when they stand for more than their functionality. John Deere, Building 19, Virgin anything — yep, they nail value propositions, but then live them in ways that make their customers heroes in their own stories. Just like spam-bot scratching kittens.