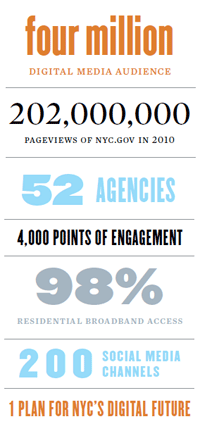 Mayor Mike Bloomberg wants to establish New York as the nation's leading digital city. That makes him different from almost any mayor in the world.
Bloomberg is a technovore, and because of this he is centering the City of New York's focus on establishing it as a digital communications leader. He's personally in the mix on this. Just last month he kicked off "Foursquare Day" in New York , not as a novice, but as a guy who gets it, and who is cheerleading a local start-up.
Yesterday the City of New York announced its Road Map for The Digital City, a 60-page plan to "achieve New York City's digital future." To put momentum behind the plan, the Mayor inked deals with Facebook, Twitter, Foursquare, and Tumblr to leverage the services in forty departments and make the digital channel key to city customer services and communication. And this is planned to be operational by the end of summer…THIS summer.
Fueling New York's Digital Economy
Besides working on network access, open government and citizen engagement, New York's plan sets a course to encourage its digital economy in the following ways:
Establish a new engineering institution
Expand workforce development programs to support growth and diversity in the digital sector
Support technology startup infrastructure needs
Continue to recruit more engineering talent and teams to New York City
Promote and celebrate NYC's digital sector through events and awards
Pursue a new .nyc top-level domain, led by the city's IT department.
Will Boston Compete to Be the Most Digital City in the World?
Part of the plan also includes establishing an index for digital achievement in partnership with other major international cities. Will Boston be one?
The challenge is now before us: lead, follow, or abdicate?
Hello, Mayor Menino? Hello, MITX? Hello, Mass Technology Leadership Council? Hello, Senator Spilka of the Joint Committee on Economic Development and Emerging Technologies? Hello, Massachusetts Technology Collaborative? Hello, Acting State Chief Information Officer John Letchford? What say you? Are we in together, or just freelancing in the same direction?
Tonight, a few of us here in Massachusetts are having a discussion about what industry and government groups can do to Fuel Massachusetts' Digital Economy. I believe that New York's road map gives this meeting in a new perspective. It should be a wake-up call. Too often Boston is the business incubator, and its breakthrough firms are acquired or move as they grow.
I'm excited by how the Boston Police Department has grabbed on to real-time messaging, such as Twitter. And I'm proud to have been part of the group that established Mass.gov. But now we need to get beyond point solutions to find ways to enrich the whole digital ecosystem.
So What Makes New York Different?
For one thing, Mayor Bloomberg is a technovore. Digital communications technology is part of his diet. It's how he thrives.
In the world of elected politics, that's still quite unusual. Leaving an electronic trail of what you say, in email, on Twitter, or IM is exactly what experienced political operatives avoid. Phones are good; email and Twitter create more risk than reward. While .gov projects carry their own special governance and funding complexities, being connected to a culture that avoids "on-record" utterances is a challenge. It's hard to centralize anything in Massachusetts, and Boston can be impenetrable to those elsewhere in the state.
But still, of tonight's panel, how many of the public sector leaders have tweeted or posted in the last week? My quick search on their Twitter feeds shows little to no real engagement, or in some cases weeks of non-use. We have some building to do.
In Massachuetts, Jane Swift was the first governor who kept and used a computer in her office. That doesn't make her good or bad, but it did create conceptual possibilities for her and the governors who followed her. Real energy and inspiration come from the top of the ticket.
I know advisers and consultants to both Mayor Bloomberg and Menino; both are smart guys. Both know that digital communications is a pivot in government and the creative economy.  But at this moment, Bloomberg and New York are the team with a plan, and my Boston favorites are approaching this competitive season with hope, and a great set of civic and business supporters who need focal leadership.
It's time to take our achievements and goodwill and formalize them into a shared vision. For a pretty good starting point, we might look a couple hundred miles to our south.