I'll be speaking about the future of digital marketing at some upcoming conferences. And since you're reading my posts, you might want to come check out an event. Yes, I have inducements (specifically discounts and bribes) for you to come join me.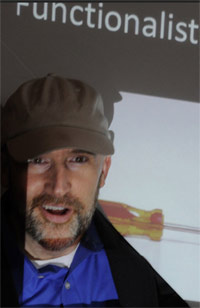 Boston: Going Local with Social Media (Friday, May 6)
All politics is local – and so are lots of buyers, searchers, and prospects.  I'll be joining my friends C.C. Chapman, Mari Anne Snow and Todd Van Hoosear for a serious throwdown on how to take advantage of the very best opportunities in social marketing.  And if you register by the end of this week, there's an early registration discount to get in on.  (Bribe: chocolate! It's brain-food, you know. Come see me at the event, where I'll have treats for blog readers only.)
New York:  Peer Roundtable Summit (Thursday, June 2)
I'll be leading three interactive peer discussions on mobile strategy for brand marketers at the Metropolitan Pavilion in NYC.  Assuming I survive, the event is followed by a knock-out cocktail party.
The event is free but it's also invitation-only.  If you are a senior client-side/corporate marketer, large online publisher, or e-tailer responsible for your organization's online marketing, and you want in, get in touch. (Bribe: I will post about anyone who reads this blog and makes the NYC event. And did I mention there's a party?)
London: The Future of Digital Marketing 2011 (Wednesday, June 15)
Yes, the Digital Future is in London. Get a serious hit of digital coolness from pioneers in mobile and e-commerce.  I have some half off discounts for "friends of the family," which you definitely are.  If you're already in London, or if a cool conference can entice you there in June, get in touch. And tune in on the hash #FODM. (Bribe: my total enthusiasm to see anyone I even only kind of know. Get a few thousand miles from home, and anyone you've ever heard of is an old friend.)
Are You on Foursquare?
Since mobility is now a way bigger part of my life, I've started using Foursquare for fun and to find great spots. If you dig Foursquare, or to try it out, come find me at: https://foursquare.com/usefularts
Or Twitter?
Naturally there's a blog-related stream of consciousness on Twitter. Come say hello, discuss what you're up to and comment on the digital marketing churn of the day.
Hope to see you soon, either digitally or over a refreshing beverage in person.