Changing Care is Just a Start
We know the U.S. that healthcare works better for some than others. Black women are nearly two and half times more likely to die in childbirth than their white counterparts; they're also 70% more likely to perish from cervical cancer. As shown on the chart here, though more while women face breast cancer, more black women die of it.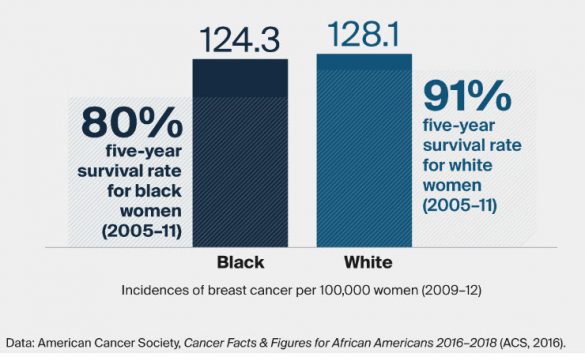 The difference isn't within the women, its within the health systems we control, and our larger culture which influences health before care begins. In this post I'll suggest these two domains, within care and before care, must both be addressed to gain equitable health outcomes. These are ideas I personally struggle with, and which leaders I talk with say call them to engage beyond our individual organizations. This is to share some facts and ideas that have guided me, and that may be of interest to you.
Addressing Disparities Within Healthcare
Professionals in healthcare are taking disparities seriously, and they're looking for the changes the can make within care organizations to close these gaps. Responses range from adapting care to better suit diverse patients, addressing implicit bias, and in general making medicine better representative of and informed by those they serve.
In a similar fashion, the research, education, med-tech and pharmaceutical industries which support care are working to remedy practices which perpetuate disparities as well. For instance, the effect of using young, white, male medical school volunteers has made the resulting treatments less effective on women, people of color, and those who don't fit other classic med school demographics.  Admission to medical school itself has been a filter to who can enter and progress in medicine, and the degree to which caregivers embody the diversity of the communities they serve. These are big issues, works in-progress. We need to do more.
Proponents may frame reducing disparities as anti-racist/sexist/ablest – or affirming the LGBTQ, undocumented, or other "minoritized" groups such as youth or the old.  Recognizing and responding to diversity is the kind of healthy, adaptive thinking we've seen spreading across care teams for over a decade. But such discrimination also exists outside of the care systems health care professionals control. It has historically been enforced by policy and law, which forms a range of socio-economic disparities which our systems of care operate within.
Disparities Start Long Before Care
By the time someone arrives to care, many health relevant factors have already been established. Personal behaviors, such as smoking, exercise, diet, the experience of stress or trauma all influence health and treatment outcomes. As important as delivering unbiased, culturally informed care is, what happens to people in their homes and community does far more to establish their health.
So we need both, culturally attuned treatment organizations who serve patients where they are. And efforts to change the health relevant context of how people live, so they can arrive for care healthier and more able to engage in care.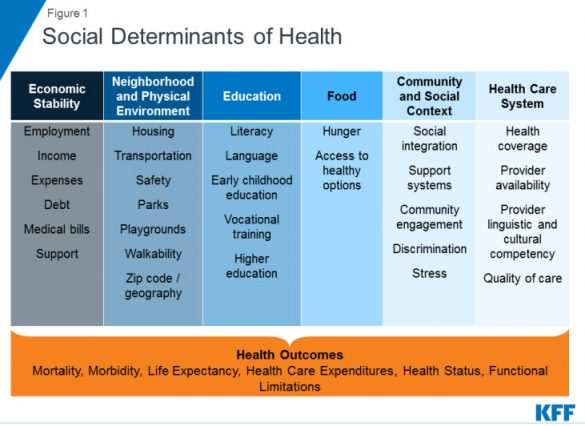 The Social Determinants of Health, as described here by KFF, are deeply 'socio-economic'. As shown here the factors cascade from access to income and wealth to then extend themselves through various factors known to drive health outcomes.
First, let's recognize that the health outcomes (in gold) seem remarkably frank: they feature life expectancy and mortality. Its rare to see outcomes that show both sides of a ledger this way: death, physical limitations and cost are as much outcomes as health and generativity.
Second, note that the healthcare system is the very last 'downstream' phase in this process. Patients arrive to care with many health-relevant factors already established. As an example, smoking varies counter to educational attainment. Clinicians may help a patient quit smoking, but their success may in fact be opposed by social determinants.
Social Determinants Exist on a System Level Above Changing Care
This example of smoking illustrates the opportunity within care to anticipate a need for a services which follows demographics and identifiable stressors, and the need above that level to also address the factors which encourage high smoking rates in specific groups. Changing things within care is what Dr. Peter Jones, who popularized this kind of analysis in Design for Care, might call a D3 activity. While potentially ambitious, is at least confined within a single organization and how it interacts with the community.
Public Health thinking can also bring an organization to seek community change, a D4 activity, such as to reduce smoking. Strategies could  inhibit underage access to tobacco, increase public use barriers, or involve partnering with community advocates on prevention or screening which precedes care. Reducing the smoking rate may create a range of health benefits, but the design and measurements of such programs will be more complex as it spans multi-stakeholder networks and requires collaboration across entities.
Are the Benefits of Medicine Reserved to the Rich? That's a disparity.
As I noted last month, mortality is an especially powerful way to focus policy makers. Human deaths, and its forward looking counterpart, life expectancy are top-level outcomes for spotting disparities too.
The Congressional Research Service follows changes in life expectancy across income quartiles to inform anti-poverty programs, such as Social Security.  Their latest update in 2021, show the continued splitting the lifespan with the benefits of progress accruing to top earners, with few if any benefits, shown as lifespan, to the lower half of earners. Economic success and health are closer linked than in the past – and a difference in the length of life based on income is a disparity drives less healthy outcomes for racial, gender and other groups which receive lower incomes.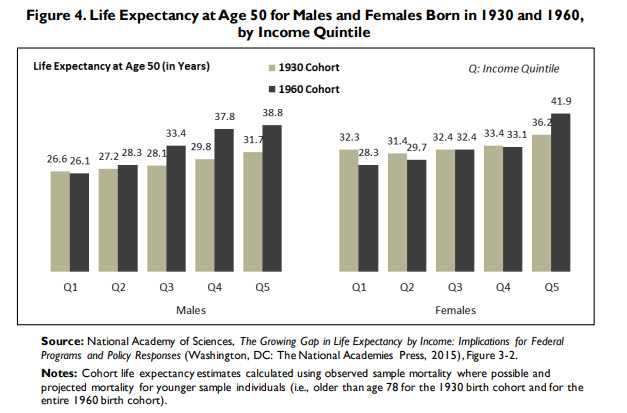 As you can see, thirty years of progress have added around seven years of life to men and women from higher income quartiles, while they are effectively lost on the poor. Can there be a clearer disparity than when the poor in the U.S. suffer disparate mortality?
We know that how someone is fed, housed, taught and embraced by community determines their health, and in this data we see it defining who has a longer or shorter life. Commercial payers and providers, and the consulting firms who serve them seem eager to address disparities within care. But can we expect to take on the economic disparities which drive health disparities by RFP and better focused commercial activity?  How capitalist can healthcare be and still be just when high wealth disparity creates the context for care?
Is It Time to Replace the Rat's Nest of Healthcare in the US?
No matter how bold one must be to sand-up for inclusion and diversity in care – one must be bolder still to hold the systems that create the context for health to those same standards.
The Commonwealth Fund's latest report is pretty damning of the US health system in terms of expense, and the resulting benefits across patients. Their analysis of ten highly developed health systems rank the US last repeatedly, leading to a top-level finding is that achieving better health outcomes will require policy changes within and beyond health care.
Their focus is at a system level, what Dr. Jones would call D4 design thinking, which is transformative across commmunities. Here are the four big things the report says that other countries are doing to deliver better health and fewer disparities.
They provide for universal coverage and remove cost barriers so people can get care when they need it and in a manner that works for them.
They invest in primary care systems to ensure that high-value services are equitably available locally in all communities to all people, reducing the risk of discrimination and unequal treatment.
They reduce the administrative burdens on patients and clinicians that cost them time and effort and can discourage access to care, especially for marginalized groups.
They invest in social services that increase equitable access to nutrition, education, child care, community safety, housing, transportation, and worker benefits that lead to a healthier population and fewer avoidable demands on health care.
Progress May Be More Possible Than It Appears
Change in large systems usually appears to be impossible until its a done deal. Before COVID, no one imagined how telemedicine could be practiced across state jurisdictions, or how to get providers on board. It happened when circumstances made the demand for change become irresistible.
In America, people of lower income die regularly at an earlier age than their wealthier counterparts.  If we explore and accept this fact, it is worth pausing to consider if that fact is acceptable. If we know the status quo to be unnecessarily complex, expensive and unfair to the vulnerable – what top level systems would we have to change to fix it?
This may be the long game of healthcare policy, to improve our commercial system suspecting that it may also need to be piece-by-piece be replaced. One of my health system clients confided to me, "We're not the ones who build this rat's nest of a care system. But we are the rats who know how to make it work."
As we make care work day-to-day, part of our mind and time must be left free to engage in system change that span organizations. Google's example of allowing developers innovation time may be resonate to healthcare leaders. The time we think about making change outside of our organizations, may be what frees us from the context which today drives unequal health outcomes.
---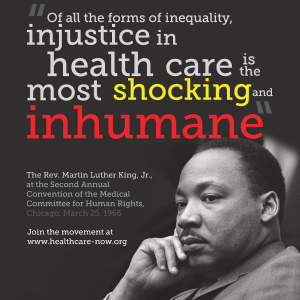 This post mentions or draws on some resources I'd recommend beyond any ideas offered here. Get in touch, I'd value your thoughts on them.