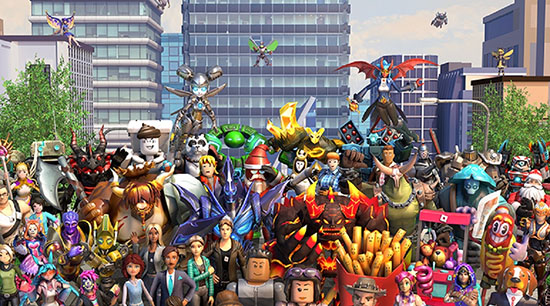 This Wednesday, the user-generated game platform and MMORP (massively multiplayer online role-playing platform), Roblox, will directly list its stock on the NYSE.
If you haven't been following this or talked with one of its 33 million daily users whose average is 13, allow me to brief you in on both why the IPO is of interest, and perhaps more importantly why Roblox should be on your radar as a force in culture, creativity, and consumerism.
Part 1 – Why the Roblox IPO is noteworthy (even to non-gamers)
It's a direct listing. Like Slack and Spotify before it, Roblox will float its offering directly without raising funds from investment banks who 'make the market'. This gives investors and the start-up team a path to sell shares without a set of listing investors taking a pre-IPO ownership stake. Doing this can benefit shareholders and the firm, if they have stock in their treasury, by not diluting shares or selling them to one group at a pre-listing discount.
It brings a potentially big payout to charity. Company CEO and Co-Founder, David Baszucki, will be incented to earn- out one billion dollars in reserved shares which he says are targeted to philanthropy. There is no cash or equity bonus for accomplishing the listing. Instead, he will receive long-term grants of stock, which he intends to donate. If the share price is $165 two years after the listing, then he will receive 750,000 shares ($125 million) –after five years if the stock is selling above $375 he will receive 2 million shares ($750 million). Taken together, that's a billion-dollar charitable earn-out.
It shows relevance can replace marketing spend. Most venture-based start-ups spend like drunk pirates to build sales and a recognized brand. Twitter, Uber, Snap, and Pinterest spent 28% – 37% of their expenses on marketing in the year leading up to their offerings. In IPO filings, game development platform Unity showed 25% of its expenses were marketing, and Palantir spent 42% on marketing before their IPO. Roblox and later this year Coinbase will float their direct listings with single-digit marketing expenses – which is enabling them to their users financially and through better design.
GameTech is a pandemic winner. Roblox is one of the top gaming platforms in the fast-growing online gaming market, which will be worth an estimated $196 billion by 2022. Just as pre-existing trends in telemedicine were accelerated by the pandemic, these same dynamics have accelerated gaming's growth as a cultural touchpoint. In both cases, new habits and companies buoyed during the pandemic have the potential to endure beyond it, establishing new patterns in culture, creativity, and consumerism. Roblox's growth has accelerated during the pandemic, with revenue up 82% to $923.9 million, while bookings, the sales of virtual items on the platform—more than doubled to about $1.9 billion. Whether its gaming infrastructure, such as (U) Unity Software's tools, or (CRSR) Corsair Gaming's hardware, or developers like (PLTK) Playtika Holding Corp – all are riding waves of engagement driven by the pandemic.
Part 2 – Why Roblox Should be on Your Radar
It's a widely-adopted metaverse. Remember Second Life? This is that at scale, with GenZ as its initial inhabitants. If they grow-up interacting with others this way – it's possible that metaverses will grow generationally, just as social media did a bit more than a decade prior. You can get an inside view of how Roblox works by listening to Matt Curtis, VP of Developer Relations at Roblox who unpacks the user strategy that goes into their metaverse creation.
Being the top game site for kids gives Roblox cultural (and advertising) reach.  Roblox has 164 million monthly users, which makes it comparable to Linked In's 200 million monthly users. An advisor to the company recently wrote that 75% of 9-12-year-olds in the US have used it. In the year ended In 2020, users spent 30.6 billion hours engaged on the platform, an average of 2.6 hours per daily active user. That's a big share of culture.
Roblox blows the category of gaming up into something bigger. Participants create their own games, connect with friends, earn and exchange the Robux virtual currency while interacting and even gathering for virtual events. So, don't think of this just as Fortnite meets Minecraft – think of it as a company that is at once the next Facebook, Bitcoin, Code Academy, and potentially Ticketmaster and Stubhub of the virtual gaming and concert worlds.
Roblox pays users to build games people love to play. More than 1.25 million people have made money in Roblox since its founding. Its 345,000-member developer community will earn $250 million in 2020 – up from $110 million in 2019. The WSJ featured Samuel Jordan, a 21-year-old college student from Fort Lauderdale, who is one of about 300 participant developers earning over $100,000 a year from games they've built on the platform.
For many young people, the last year of isolation at home has given young people a feeling of limited prospects. Imagine the credibility of a learning platform on which people find their peers, share their work with a potentially vast audience, and potentially create revenue-generating businesses in their spare time.
Roblox could blur the line between massive online games and massive online courses from Edx, Coursera, or Khan Academy. This is a platform that will mix STEM education, social media, virtual currencies, and community unlike anything else. Their ability to do a direct listing based on relationships formed with scant marketing shows its strong market position – confirming that Roblox is a fast-growing business and cultural force which makes it another digital disruptor spanning industries and business types.