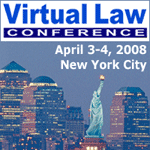 Today's conference kicked off with Chuck Scothon, General Manager and SVP , Girls Mattel Brands, and Rosie O'Neill, who is Sr. Brand Manager and "Chief Barbie Girl."  That means she manages development of initiatives including the BarbieGirls.com virtual world. Social critics suggest such toy centered worlds provide a pedagogy of consumerism, and make products and subscriptions the hub of social spaces.
What's the headline from Barbie Girl?  One million users in 28 days, 3.5 million after 90 days, 11.2 million users in the first year.  It's a free site today, but in the next few months you can expect to see premium VIP services that grant subscribers a tiara, access to a virtual amusement park, virtual pets, and global networking with other girls. Q&A from the 1,000 in the room centered on business issues such as pricing, licensing, and questions about diversity and child abuse prevention. 
This matters to the law because it's increasingly important to clients' brands and future products. Entertainment, toys, retail — perhaps everyone in the converging world — seems to have a stake in virtual worlds. Incidentally, yesterday was the first Congressional hearing on virtual worlds, which is another sign that this medium has crossed to mass adoption.
As I type this, Steve Mortinger, IBM's VP and Associate General Counsel, is outlining what trademark owners need to know about virtual worlds.  Steve is also co-chair of the ABA IP section's Special Committee on Computer Gaming and Virtual Worlds.  He's describing IBM's virtual world experiences, and where the law can help virtual worlds along. 
Is a virtual world use a "use in commerce" for trademarking?  Such are the thorny issues being identified here.  More details, and perhaps some answers and advice, to follow.