One of fun parts of writing an annual benchmark report on the digital strength of some of the best hospitals in the U.S., is that its allowed me to get to know some great digital and innovation leaders, and occasionally their perspective on the work featured in my coverage.
Please join me for a free educational webinar on January 9, 2019 (noon-1p.m. Central Time) which is being convened by the American Hospital Association's Society for Healthcare Strategy & Marketing Development. And yes, if you register but can't attend that's fine, they'll send a link to a recording of the session.
You'll hear the top findings from this year's research, and catch a guest appearance by Lee Aase who leads social and digital innovation at this year's top ranked healthcare marketer, Mayo Clinic.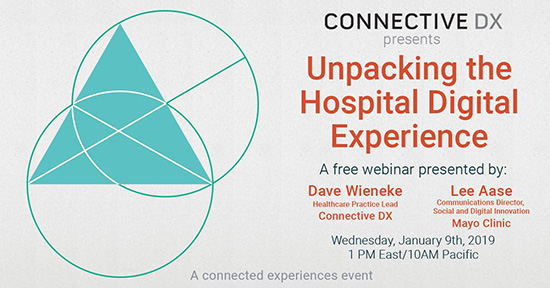 Here's a preview of trends I expect to discuss:
The fast, and near universal shift that is bringing diversity forward as never before, race and gender inclusion now front and center.
A convention for segmenting traffic that many of these sites are adopting.
The one contact channel above that several systems are now just saying outright is the best way to plan care with them.
And what may be the opening salvo of multi-lingual hospital marketing.
What's Mayo Clinic up to?
I can't tell you what Lee will be sharing yet. But this year's report features Mayo Clinic for innovating boldly, both in creative fast tests and in sold big strides. They've launched their own online patient community, deployed early conversational interfaces on Alexa, and through Lee started teaching healthcare marketers what the teams at Mayo Clinic have learned about social media, content marketing, and digital innovation.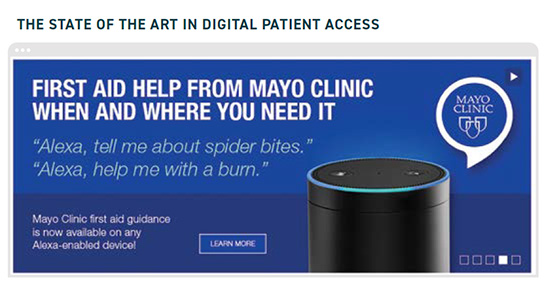 Mayo Clinic has become the highest impact hospital marketer in the U.S.
In terms of impact and reach, Mayo Clinic has earned a place as the dominant healthcare publisher among hospitals. Around 400 million online visitors go to MayoClinic.org each year, resulting in over one billion annual page views, and around 20 million health-related searches on their website. As you can imagine, there are at-scale teams backing Mayo's apps, websites, and digital patient interactions, and they're both experimenting, and laying foundations to support continued change.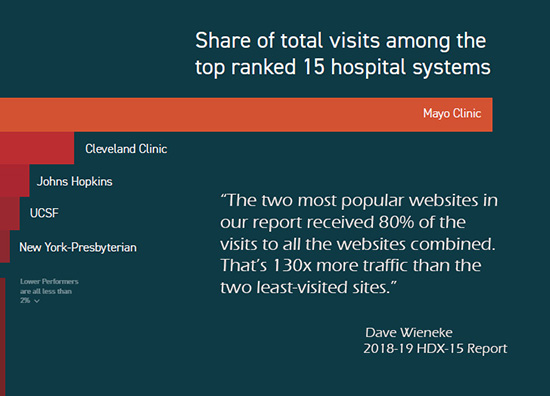 My colleagues at Connective DX and I have been putting the spotlight of healthcare leaders like Lee for atleast five years now.  For instance, last year we presented a SHSMD webinar on mobility and healthcare marketing with Northwestern Medicine's Stephen Strong.  At Connective DX's Delight Conference, I can recall bringing healthcare leaders for Kaiser Permanente, UPMC, Blue Cross of Massachusetts, and Oregon Health Science University on to our stage, as well as hosting a full day of Healthcare Journey Mapping with Design for Care's Dr. Peter Jones.
Twenty minutes of healthcare innovation on the Delight stage
We've been learning from Mayo Clinic leaders since 2013. Check out this fantastic session by James Oliver Senior, a creative and patient experience leader Mayo Clinic. And yes, you can also catch me, all clean shaven, welcoming him to the Delight stage.
James Senior is a design leader from Parsons, who helped build MayoClinic.org, which gains over a billion pageviews annually, and is the top trafficked hospital website in the world. Hear him at the Delight Conference in 2013.