Welcome to Bentley University
Its 6pm and I'm eating sushi outside the LaCava student center at Bentley University before giving a guest lecture. About a quarter of the people I meet are international. It's 80 degrees and spring break is over. Everyone seems tanned rested and relieved.
But behind the happy afternoon, higher education in America is facing challenges big enough to nearly end its existence on the way to dramatically remaking it.
We're already aware of the looming obligation of debt that students too often graduate into. And too often, they find their academic work doesn't line up to corresponding professional rewards.
Could Higher Education Become a Sucker Bet?
There is a point at which the cost of higher education becomes a sucker bet. That usually happens when everyone agrees something is a sure win. Often there are even loan programs to extend such markets, and cost bubbles emerge. And those last in get hurt the worst. Sounds familiar, right?
But cost isn't higher education's only challenge.
A recent poll showed that professors know less that one-fifth of their students by name. The speed of economic and business changes makes the half-life of specific knowledge conveyed in undergraduate education breathtakingly short.
Students need the kind of creative and adaptive skills that can only come from instructors who know them up close, who can encourage and evaluate them, and will remember their names for a few months. Anonymity is a clearly an anti-pattern to this kind of involved learning.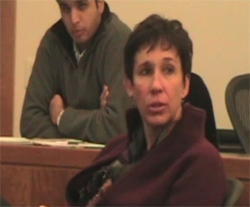 Student Consulting Teams Work at Bentley
So  I was delighted to walk across the Bentley University campus with my host, Mari Anne, as she stopped and visited with no fewer than three separate teams of students working together before her class. They were preparing marketing programs for real small-business clients that are part of their course with her.
 By this time in the year, she knows them both by name and more: here's the bad boy who often has great ideas; she's driven and we did a session to get her ready for a Digitas interview; he's up for a job at Hubspot and is headed out sailing after graduation.
She opens up the network, allowing students unfettered access during class.  (yes, America, students play Tetris during lectures – certainly during mine.) She puts the week's quiz questions up on the screen early, letting early arrivers get a few minutes extra to answer her weekly marketing current-events quiz.
What big Apple event occurred while we were on break? (The iPad launch)
How are big-box retailers cashing in on Apple's big event? (Early openings, which Apple loves.)
How is Amazon getting in on Apple's big event? (With a new reader for the hi-res new iPad.)
What major digital event occurred in Austin, TX while we were on break? (SxSW)
It's the kind of information you'd expect young marketers to have "top of mind." It creates a culture of people who are on top of the space, even during spring break. "The more knowledge you have that is relevant and current, the happier I am," says Mari Anne.
Ideas, Action and Adaptation
I give my short talk on how marketers can use the rubric of Lay Epistemology to plan campaigns that shift audience beliefs, and a quick flyover of how to analyze "conversion architecture" on landing pages. It's just academic enough to inspire note-taking. And when the questions start, it gets fun.
These are people on deadline; they want to know if these ideas will help them deliver better advice. "What's the right mix between inbound techniques and advertising?" "How far into social media can you expect a client to go who is non-technical?" "How can you advise a company that badly needs market research?"
Professor as Account Director
When two students mention their plan to visit a restaurant they're advising, Mari Anne asks, "What for? If it's to get the vibe, go at rush hour. If it's to talk to the client, go late – one owner is always in the kitchen, and they're more accessible during closedown."
Mari Anne functions like an Account Director. She wants to see previews of their client-solution pitches, and emphasizes that they have to connect ideas to next steps that the clients will be able to put into action.
Most of the class is headed to graduation. They're interviewing at agencies, marketing service companies, and media firms. Thanks to Mari Anne, each has worked for clients usually in two different industries. They know current events, speak the lingo, and expect to adapt ferociously to a fast-changing industry.
A half -of them have sent me LinkedIn invitations before I'm out of the room. They've tweeted the night's high points, and dropped ideas into draft PowerPoint stacks for their clients. They get the need to connect to a broader network, and to have skills and points of view that set them apart. Some may become friends, competitors, clients or colleagues.
In just two months, most will be alumni. They'll be filling the gap between the promise of digital media and the best we've done, so far. We've got a long way still to go. So, I'll be at two more universities this week. To know the future of digital marketing, it helps to see the next generation's talent.