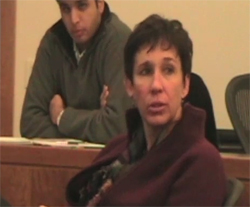 The session started with a 15-minute quiz on the latest social media phenoms of the last week: what's up with Angry Birds, men buried in Skittles, and Evernote's funding round?  It's all part of being socialized into the constant flow of always-on social media, says adjunct professor Mari Anne Snow, who makes being on top of Mashable and other social sources a part of the curriculum at Bentley College.
With the pop quiz over, they start to discuss their client work. The course is providing strategic recommendations to real start-up firms who expect actionable advice on exactly how to use social media to grow their businesses. The class is on deadline, with their first round of deliverables just a few weeks off.
Cool, huh? When I was a student, I recall hearing the opinion that philosophy departments performed a social good, as it was hard to imagine some of their professors keeping conventional day jobs. That's clearly not the case here. Mari Anne is an in-demand expert on digital business and privacy issues, and she's brought a stream of real-world experts from business and social media into her class as subject matter advisers.
And that's where I came in. Digital natives like her students have a great grasp of how digital media plays from their consumer experience. My job was showing them how measurement keeps business strategy connected with social marketing initiatives.  Their clients need to measure bankable business results, so we got hands-on with goal setting and attribution techniques to figure out which channels work best for driving engagement and customer acquisition.
What did I learn?
That the culture of social marketing must be taught along with skills. And that digital natives still need the inside view of how businesses use the medium. These undergrads will be more ready to consult and advise than their predecessors a decade ago.
What do I hope they got?
That analytics is a crucial digital marketing skill for everyone, and is currently in high demand at companies of every size. And that access to analytics is jet fuel for junior staff, because it will help them promote data-driven decisions, rather than defaulting to the firm's pre-existing wisdom, the highest-paid person's (or consultant's) opinion, or group-think.
By now I hope a few of them have opened up Google Analytics, tagged some test pages, and started to gather data. If Mari Anne or I start getting questions about analytics, we'll know they've started up an adoption curve that thousands more professionals need to climb. And if they start this as class work, then they'll be a step ahead in a field where mastering the growth curve is a key professional skill.