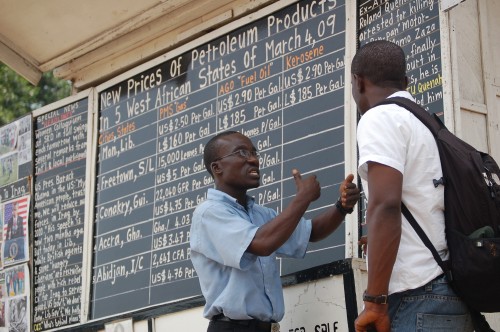 In Monrovia, Liberia, there's a guy taking the matter of a lopsided, state-run media and reshaping it into a free-of-charge, independent news-aggregator—all accomplished with a whiteboard and couple of markers. (No Internet required!)
Each morning, at 10:45 a.m., Alfred Sirleaf heads to his bulletin board to post the day's news, culling together a slate of stories his countrymen might otherwise never see.  A "self-taught newshound," he reads half-a-dozen newspapers, then summarizes the most important topics and prints them out by hand in front of his plywood shed. He has recruited a set of stringers to send him scoops via text messages, and puts up a painted "Breaking News" sign to signal a big story. He's even designed a system of symbols to convey the news to those who can't read, or who are driving by.
Grateful readers line up in droves, on foot and in cars, to read these updates, in what has been described as the country's — and probably the world's — only analog blog.  Simplicity is the good manners of our age.