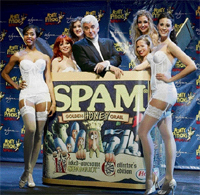 Large scale spammer Robert Soloway, age 28, whose criminal trial was scheduled to start in a week, is facing a possible 26-year jail sentence after pleading guilty in Seattle on Friday to charges of fraud and tax evasion.
Soloway is set to be sentenced on June 20, 2008.
The indictment included an array of charges:
Counts 1-10 were mail fraud, due to Soloway delivering his spamware through the mail, and the product egregiously failing to be what he said it was, notably including 30 million addresses purported to be opt-in.
Counts 11-17 seven were wire fraud, sending spam making false claims about the product, support, guarantee, etc.
Count 18 was CAN-SPAM fraud, forged mail headers.
Counts 19-25 were identity theft, sending spam forging other people's return addresses.
Counts 26-27 were for failure to file income taxes
28-40 were money laundering, using his ill-gotten income (see counts 1-17) to pay for further lawbreaking, e.g., server hosting and rent for his activitites.
All in all, it was quite a comprehensive indictment, most of which did not depend on CAN-SPAM charges.