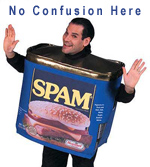 Spam Arrest, a provider of software and services aimed at stopping email spam, has won a U.S. Trademark Trial and Appeal Board ruling, allowing it to keep its trademark despite a petition from canned-meat producers Hormel.
The TTAB blog quotes the ruling:
"Simply put, the scope of protection of petitioner's mark, while extremely broad, does not extend to prevent the use of SPAM ARREST for spam filtering software, since consumers will understand SPAM as used in respondent's mark in its generic sense rather than as referring to petitioner's mark(s)."
Happily the court focused on the test of likelihood of confusion among consumers, rather than whether the mark was famous and would be diluted as a promotional asset. This is generally good news, because trademarks exist primarily to prevent confusion, not to restrict otherwise efficient public speech.
Spam Arrest Chief Executive Brian Cartmell said in a statement,
"Consumers are smarter than to confuse us with the source for meat called spam."