This week Amwell filed to go public with a $100 million stock purchase from Google. Accompanying this investment's announcement, Amwell also agreed to make Google Cloud its preferred platform partner, and it will move its video services to Google for new and existing clients.  For background on Amwell, I suggest tuning-in to their CEO's interview with Boston's Pioneer Institute, which I featured in May.
This partnership comes on the heels of Teledoc's acquisition of diabetes coaching company Livongo, which grew Teledoc to a $30 billion valuation establishing it as the dominant telehealth provider. Just a week ago, Stat News published a deep dive on Teledoc reporting that the company currently has a relationship with more than one-fifth of the U.S. population.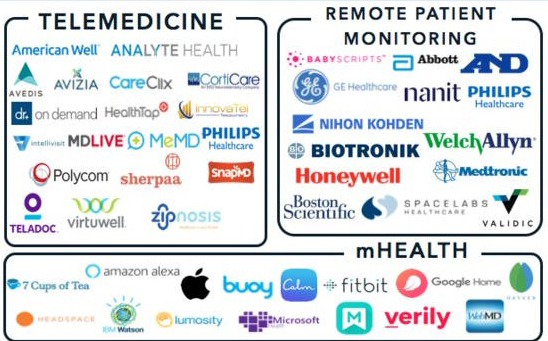 Rebecca Robbins' analysis of Teladoc in Stat News recounts a sequence of successful bets the company made, including the decision to pursue an early IPO and scale in advance of demand.  It also decided to focus on offering a premium product to complement rather than compete with the existing care system. This strategy to partner made Teladoc a resource for legacy providers in their moment of need.
When COVID disrupted the U.S. health system, services like Amwell and Teladoc were positioned to scale as demand for their services grew at a breathtaking rate. During the stock market crash in mid-March, TDOC shares sold at $128; by the end of the month, they were up to $160; as I write this, they're trading near $210.

Teladoc's year over year revenue has tripled, which is big news in an economy that has lost 15% of GDP. Those forces set the stage for the Amwell / Google partnership – which is moving quickly to tap into the growth and market interest which powered Teladoc's ascent.
As someone who gauges markets, I expect this kind of growth could justify several public companies fighting it out. So, Teladoc's move to get a strong foothold in disease management and monitoring through Livongo is s smart move to bring them to a higher margin business.
Livongo has a large established base of devices used by patients. Monitoring and collecting data on things like blood pressure for hypertensives or glucose levels for diabetics, could set Teladoc apart from other late-arriving competitors. A handful of "startup-sized" companies such as MDLive, with sales which are about 10% of Teladoc's, are planning to go public by next year. That makes this the time that established firms such as Amwell and Teladoc need to 'Get Big Fast' and build consumer preference as barriers to entry.
The emergence of telehealth is a narcotically appealing story for investors.
COVID-19 and changes to regulation are catalysts that legitimately have opened-up, previously blocked models of care.  This fits with broader trends in digital transformation, consumerization, and the healthcare industry's imperative to control cost while expanding access to care.
As financial strain threatens tens of thousands of physician practices and dozens of rural hospitals – changes to the care model feel overdue. That change could take the form of consumer health offering such as health teams at Walmart, CVS, and Target. Or, it could shift large parts of care to the cloud, vis Google, Teladoc. These tracks need not stay separate. After all, Walmart and Target both have formidable digital capabilities, and CVS/Aetna could field in integrated online care system.
While the model of entrepreneur physicians providing local care may have eroded before COVID, the pandemic may well punctuate its end as to how people image getting primary care. It the future it may come from the screen, the store, or the system integrated with payers. This mix will take longer to sort out, but right now, telehealth is a hot bet with investors and innovators.
—
Disclaimer: I hold long positions in Google and Teladoc. This post's discussion of market conditions and technology is neither advice nor an endorsement of any particular company or service. No matter where my opinions appear, they are mine alone and don't represent those of my publishers or those in my professional life.