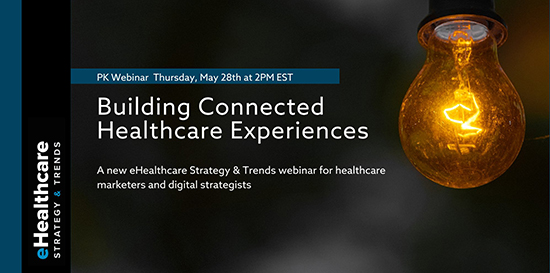 View the recorded presentation here.
If you love at-scale marketing, content strategy, and the idea of life after COVID19 driven urgency – this is an hour you won't want to miss. The folks at eHealthcare Strategy and Trends have helped us gather nearly 200 healthcare marketers to reflect on the remarkable 60 days we've just lived through — and the need to continue innovation while building capacity to connect with consumers had drive growth for our hospitals, health plans, and medical product companies. This is next week – details here.
The difference between heaven and hell is who you're with — so I'm eager to introduce you to my Team PK colleagues Jeff Cram and Derek Phillips. Last year, Derek and were on the road discussing our emerging vision for an approach to line-up touchpoints across every phase of people's healthcare journeys, so healthcare organizations can get their best value of relationships by acquiring, engaigng and retaining customers better.
And, we'll be joined by agency founder and Sitecore MVP, Jeff Cram, who will extend our thinking in to ways to integrate systems, and make the most of your web experience management platform.  The response to this invitation has been pretty incredible, so please register now if you'd like to join-in.