Its the point in the election cycle when a campaign grabs-on to some kind of creative work to be more culturally relevant. You know, like "America should be more like the Waltons and less like the Simpsons". Or when the McCain, Crist and DeVore campaigns grabbed music from Jackson Browne, David Byrne, and Don Henley sans licenses.
The College Republican National Committee created a series of television ads (see six of them here) to help candidates in a string of races be "culturally relevant" to younger and female voters. The hook, a cocktail of wedding dresses and reality TV as a metaphor for deciding who you'll vote for, or in this case, against.
The one minute ads parody the long-running TLC reality show, Say Yes to the Dress. In it, brides-to-be are sucked in to emotional turf wars with their families while trying on wedding gowns in an maelstrom of consumerism and family pathology.
The ad comes across as an attempt to make politics interesting for girls. Just add dresses and a near-slapfight with an unsympathetic mom. There's even a sassy, supportive black girlfriend, who helps the young voter stand up against the Democrat dress before her champagne toast.
The problem is that most millennials rather like their parents — and in this disillusioned election cycle, the feckless parent seems a lot more likely to vote than their reality program inspired kid. The ad is targeting the wrong demo, and insulting the right one. Or everyone?
Its hard to imagine the ad alone changing anyone's mind. But then again, its hard to imagine that a show called Say Yes to the Dress is enough of a hit to be expropriated in parody. Of course, the story doesn't stop here.
Isn't Any Press Good?
Some will claim the million dollar spend behind the ads have been multiplied by the viral buzz they've generated. But that's damage control, as evidenced by the choice to turn comments off on the ads they posted to YouTube. No, all press isn't good, just as all comments aren't good.
Any small notice this ad drove, is more than offset by the counter-parody it brought from Stephen Colbert.
His ad opens with two women riding bikes through a park…
…Right now it's that time," says Lady Voter 1.

"Midterms? Yeah. Me too," says Lady Voter 2.

Lady Voter 1 proudly shares that she's "being protected by Rick Scott in my private sector," while her friend, embarrassed, admits she's still using Charlie Crist.

"It's been four years since he was governor!" Lady Voter 1 exclaims. "He could never give you that fresh feeling!"
Colbert's last Nielsen rating had a .6 share or about 600,000 US adults age 18-49 during the latest sweep. And as a 2012 Pew Research Report of news audiences notes, 43 percent of Colbert's audience is younger than 30 – precisely the young voters the CRNC was hoping to reach in its ad.
Forrest Gump said "stupid is as stupid does".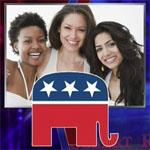 Insulting women in general and mother's specifically before an election is like putting a kick-me sign on a string of candidates. And in this case, that sign hangs right in the issue space where the candidate's arms don't seem able to reach, women.
The GOP ad needlessly reminds women voters that Republicans and allies have been perplexity bad at connecting with them. Recall the Koch-Funded 'Creepy Uncle Sam' Gynecologist ad, which its self drew ire and parody.
The Young Republican's made a bad attack ad. It buries their list of particulars, doesn't even show its candidates, denigrates their most likely voters — and draws the more adept mockery of opponents.
Its an embarrassment, which cooler hands of the GOP help could have derailed. And this is the thin gruel which passes for discourse in the world's oldest democracy, as it fails forward toward midterms.
Here, perhaps a quick visit to Foreign Affairs will help. Its a reminder the political process is more than a culture wars. Though that's where the ground game of US politics is being played out this week.