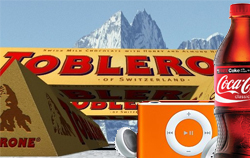 On March 4 (12:30 Eastern, 9:30 Pacific) you can participate in a free live webinar with the Kellogg Business School's James Conley.
Kellogg is arguably America's top marketing school, and Conley is a clinical professor in technology who speaks and writes about intellectual property law and marketing.
You may recall Conley's Wall Street Journal article about the strategic importance of trade dress this May, after Apple trademarked the three-dimensional shape of the iPod.
As he noted several years ago in the magazine of the Industrial Designers Society of America:
If used properly, marks, unlike patents or copyrights, never expire. Registered design elements that serve as a brand foundation are therefore indefinite forms of competitive advantage.
What Is Trade Dress?
Trade dress is the totality of elements in which a product is packaged or presented. Think of Toblerone's triangular package and shape, Coke's distinctive bottle, or Tiffany's distinctive gift packaging. Protectable characteristics can include the three-dimensional shape, graphic design, color, or even smell.
But to be considered trade dress, the attributes must:
Be capable of functioning as a "source indicator"; in other words, communicating to consumers the identity of the particular product or its maker.
The attributes must be "non-functional."  In the case of Toblerone, being molded in to a triangle doesn't change the nature of the chocolate. It is a purely reputational attribute.
Of Interest to Both Legal and Marketing Pros
Tamara Miller of Leydig, Voit and Mayer will also headline the event, providing her insight as an expert IP law practitioner.
The program will discuss why trade dress is a growing part of many firms' brand strategies, and what this means for legal and marketing leaders. It is sponsored by the good people of Thomson Compumark, where I am a marketer.