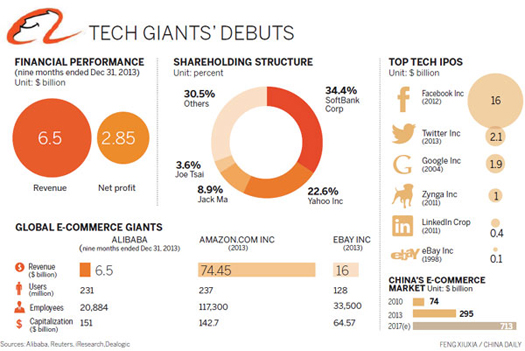 Yesterday, the most anticipated tech IPO of the year established China's largest e-commerce company, Alibaba Holding group, as a Wall Street powerhouse.
Its stock closed the  day at $93.98 – setting t he firm's market value $231 billion dollars, making it larger than Procter & Gamble.
This Spring my a set of my graduate students at Northeastern University were assigned to follow the emergence of Chinese firms as Internet leaders. Each week they'd brief the course on emerging companies. Since one third of my students are international, and many are from China, their insights which often came from friends working inside these firms provided first-hand views one wouldn't see in the US business press.
Here are the fundamentals that make not just Alibaba, but this sector of firms, a structural force:
Market power: about 45% of of the world's 3 billion Internet users are in Asia.
Deal volume: so far this year 21 US tech IPOs have raised $3.2 billion, and 9 UK tech firms have raised 4.7 — 26 tech firms based in China, Japan and South Korea have IPO'd for a total of 4.45 billion, plus the over $25 billion raised by Alibaba. (that's a huge investment in the region's tech economy.)
There are several built-in advantages which put the wind at the back of companies in China.
Protected market: barriers to entry in China have uniquely prevented leaders from other markets from locking up e-commerce, social networks, or applications. This allows more blue ocean for a firm like Alibaba to have integrated offerings.
Fewer retail and banking services: Western markets have greater competition between "bricks and clicks" — there are fewer retail malls in CHina, which gives frictionless eCommerce a less competitive landscape.
Network effect: the market size of China simply makes tech companies more value for being there. A firm that develops in France, or Israel has a smaller home market in which to grow and a need to face global complexity earlier than a firm that has access to such a large market from day one.
Currently four of the world's ten most valuable Internet firms are based in Asia:
US: Google ($390 billion)

China: Alibaba ($231 billion)

US: Facebook ($194 billion)

US: Amazon ($150 billion)

China: Tencent ($148 billion)

China: Baidu ($74 billion)

US: Ebay ($63 billion)

US: Priceline ($61 billion)

US: Yahoo ($42 billion)

China: JD.com ($40 billion)