I'm happy to have a short article in the current issue of Advertising Age. It's a look at the over-use of QR-codes in ads, and it suggests that sometimes a giant stuffed rat just works better.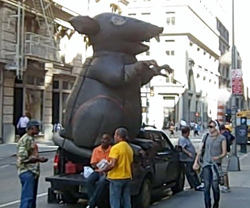 I'd like to add a few comments, starting with a photo of the rat in question, which stands around 30 feel tall. The union guys who use him to call attention to their protests just love this mechanism. After all, sanding around handing out flyers can get dull. Having a 30 foot tall rat just up-levels the whole effort.
Giant Rats Have Their Charms
Great advertising campaigns share four common elements: the are tangible, approachable, personal, and memorable. The stuffed rat and the guys with it worked on all those levels. A QR code as a central creative element just doesn't work. Its not the code's fault.
Too often, short-sighted use dooms the QR code, regardless of how great it is.  QR's in the subway where there's no mobile signal, or who don't lead to mobile optimized pages, or who don't create a clear motive to use the code in the first place, will fail.  They're bad marketing. Putting QR's on urinals, where I hope never to see cameras, or on my dessert (yes, really) is wearing the novelty away.
But CueCats of Any Stripe Are Lame
Beyond silly use by marketers, there is a problem with this mechanism. It isn't convenient enough to be a great mass market connecter. In the article, I compared QR codes to their failed predecessor, the CueCat. In fact, my new favorite digital strategy friend, Lee de la Houssaye, wrote a post extended this idea, that QR Codes are CueCat2.0.
Do QR Codes Have a Future?
Sure they do. But research from Japan, where QR codes have wider use and maturity, shows that of those who use them, the average is less than two uses per week. And in those cases, the overwhelming reason they used the code was to get a coupon or discount.
If customers only opened two email messages per week, or answered two phone calls per week, that would discourage making them the core of many mass marketing campaigns. Unless they arrive with a great discount, or attached to a great rat, they eventually won't get noticed.