This week's healthcare news fixations
Some political progress on leave and drug prices
With the news dominated by impeachment and an updated NAFTA trade deal, it would be easy to miss that on Wednesday, the federal government's 2.1 million workers are likely to receive paid parental leave, thanks to legislation tucked inside the National Defense Authorization Act. This came about through a trade through which Republicans advanced the creation of Space Force as the nation's sixth fighting force.
Making paid leave a benefit for federal workers may catalyze to include it in private negotiations with unions and HR departments generally.
Then on Thursday, the House passed the Lower Drug Costs Now Act, a sweeping drug pricing bill that would allow Medicare to negotiate the price of up to 250 drugs and would cut pharmaceutical industry revenues by as much as $1 trillion in the next decade. Democrats would use the resulting savings to expand Medicare coverage to dental, vision, and hearing services. Though two Republicans joined Democrats in voting yes, the bill is likely dead on arrival in a GOP-majority Senate, where lawmakers continue to consider a more modest, bipartisan drug pricing package.
Also on Thursday, the Trump administration granted a waiver for South Carolina to impose work requirements on beneficiaries of its Medicaid program.  It's the first state that has not expanded Medicaid to acquire such permission. [Washington Post]
A third of American's struggle with medical costs
This week Gallop released research showing that 25% of Americans are putting off serious medical treatment because of cost. 33% of delayed treatment because of financial priorities. The Washington Post headlined the below chart – "A stunning indictment of the U.S. health-care system, in one chart." [Washington Post]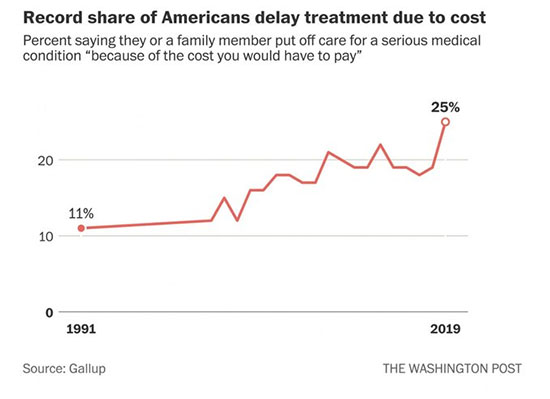 CVS will provide genetic cancer screening to Aetna members
CVS will provide broad gene sequencing tests for patients with advanced cancer enrolled in some Aetna insurance plans. They have been running an oncology pilot program in 12 states in which patients prescribed treatment regimens that follow National Comprehensive Cancer Network guidelines automatically receive prior authorization approval, speeding the time to starting their treatment. [Healthcare Dive]
Pete Frates, who raised 22 million for ALS research with the Ice Bucket Challenge, died at 34. [Boston Globe]
Teletherapy app Ayana matches marginalized communities to therapists who share their background. Anything that streamlines services to those with social obstacles is a good thing — that said, I have mixed feelings that this happens through background matching, which like so much of provider selection, focuses on reducing social distance. This perpetuates a preference that 'like should be served by like' and may segment patients to clinical enclaves. This is still good news, but perhaps with some unstated costs. [Wired]
Dr. John Halamka will leave Beth Israel Lahey Health in Boston to become president of the Mayo Clinic platform, a unified data repository the Minnesota-based health system is creating to develop new analytics capabilities and digital services. This underscores Mayo's eagerness to tap into the opportunities offered by AI and the exploding digital health industry, and its awareness that doing so carries plenty of risks. [Modern Healthcare]
Teaching is one of the ways leaders learn, renew and invest in change
I'm teaching healthcare marketing in snowy New Jersey, during the drive asked myself why I teach as part of my work.
As I scraped snow off a car that I had rented to drive from Boston to New Jersey before this week's snowstorm, I seriously asked myself why I teach in addition to my already material and rewarding 'day job'. I'm far from the only person doing this, it isn't hard to find veteran business leaders maintain a strong teaching sideline.
Werner Rehm at McKinsey and Linda MacCracken at Accenture both sharpen and share their expertise teaching. Tom Williams teaches design thinking from the perspective of a seasoned military leader. Inside healthcare marketing, James Gardner, Vicki Godfrey, and Alan Shoebridge lead teams and teaching class after work. We might call them "busy people who teach."
So, why do I teach? And why might you want to? Here's my first course at Northeastern University back in 2012. I had just hired a 20+ person marketing team and a line-up of agencies to help us. Nobody was teaching 'frontline techniques' as we were using them, and we wanted to get found and be known by people who wanted to be great digital marketers. What surprises me is how fondly I remember these students and their ambitions. Each was making a big career move which would take a few years of focus; as a group, they've gone on to successful careers and lives that seem awesome in social media. ;>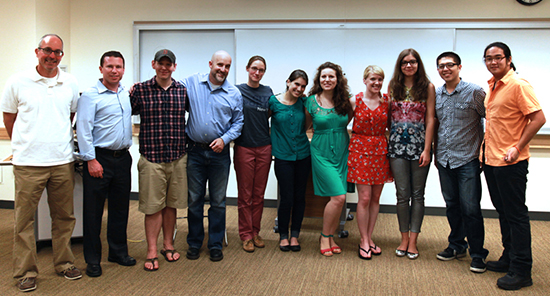 But teaching 12 weeks of grad school is a big commitment. In my experience, preparation for grad school teaching was 3-4 hours of prep for each one teaching. And because you want to grade assignments thoughtfully and be there every week, the hours do add up. As my agency travel schedule became incompatible with being in Boston for 12 Monday's in a row, I started looking for other ways to teach.
Fortunately, I found my way to executive education, which usually isn't based on semesters and weekly appearances. This let me start teaching for Rutgers, the state university of New Jersey. Participants may ready my writing, watch recorded lectures, and work with me by phone before a few intense days together. This fits my schedule better, and it makes courses a quick hit of skill learning and proto-consulting.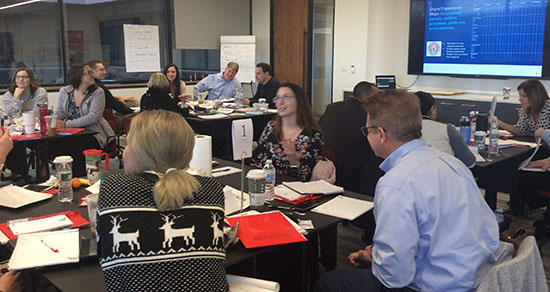 Unlike grad students who have long learning horizons, leadership teams want to put ideas to work quickly. Here are the real job roles in the team I taught this week.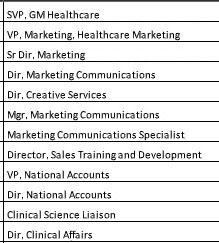 s pathThe group's program included Strategy, Emerging Marketing Technologies, Search Engine Marketing, Customer Experience, Social Media, Content Strategy, Analytics, Staffing Structures, and Culture, and approaches to Personalization – with each of them making a capstone project that could be implemented together with group members.
Mixing Consulting and Instruction
After discussing ways to assess digital experiences, one of the participants suggested we critique their website and those of their competitors. As I was a "fresh pair of eyes", they asked me to shift from instructor to creative director to apply what we've practiced. Teaching and consulting require tact — but our critique session opened was a lot snappier. They got to see how I discover and react to broken design and positioning by competitors, and they began reflecting that energy back.
Seeing someone experienced 'snap the towel' in design critique, and their joining in, ended our session with some joy…if not even swagger.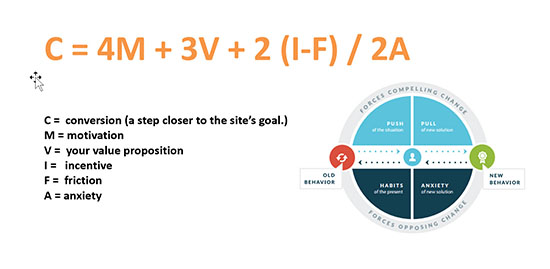 So, this is why I am excited to teach – even on the snowy days. Teaching and consulting are both a series of first days at work. Both take figuring ways to keep teams of leaders engaged for hours toward making progress. There's no faster way to learn from people than to teach them, and no better way to develop views and experiences relevant to those like them.
Any agency can respond to a team's vision, but it takes a partner to inform that vision and to challenge and elevate how it goes to market. Teaching forces you to have views, a game plan to engage leaders, and a ton of examples and knowledge loaded into your active memory.
The difference between heaven and hell is whom we get to associate with. ;> I'm grateful that Connective DX encourages this kind of involvement, and to Rutgers Business School for convening high energy teams who are ready to put knowledge to work. If you're thinking about teaching – I'm glad to discuss my experience and encourage that impulse. It's hard to think of a better way to make the most of a snowy day.